NDC Youth Organizer Shocked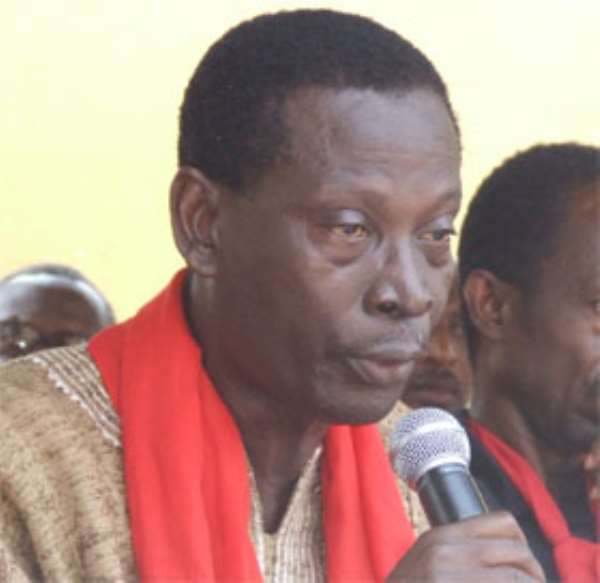 Dr Kwabena Adjei - NDC Chairman
IMPECCABLE INFORMATION reaching DAILY GUIDE has it that Solomon Nkansah, alias Solo, the Western Regional Youth Organizer of the ruling National Democratic Congress (NDC) since 2004, received the shock of his life when he lost his position to one Kobina Mintah Akwandoh at the party's Regional Delegates' Congress at Bogoso in the region last Thursday.
Some party activists in the Sekondi-Takoradi metropolis who heard about Solo's defeat could not believe their ears as they wondered how the out-spoken regional youth organizer who was tipped to retain his position could lose the election.
According to some party members in the region, Solo's defeat was as a result of "pride and poor human relations" towards major party members as well as some elders of the NDC.
"Solo was too sure and believed in himself thinking that his victory in the elections was a forgone conclusion. He therefore never embarked on a vigorous campaign, bragging that he would floor his contender", an NDC youth activist echoed.
When Solo was contacted, he confirmed the story but refuted the claim that sour human relations accounted for his defeat, adding that it was the will of God that was manifested last Thursday at Bogoso.
On whether or not his defeat signified his unpopularity among the party faithful in the region, he answered in the negative and stressed that universal adult suffrage could not be used to determine the popularity or otherwise of a politician.
According to him, in the 2000 and 2004 general elections when the then NDC presidential candidate Prof. John Atta Mills lost to former President John Kufuor in the presidential elections, it did not mean Prof. Mills was not popular, it was democracy at its best.
When quizzed on his next line of action, Solo, who sometimes lambasts reporters of DAILY GUIDE on radio for no apparent reason, indicated that he is ready to support the new regional youth organizer for the party to win the next general elections.     
The delegates at the Congress, held at the Bogoso Catholic Hall, voted massively for Akwando, a former student of the University of Cape Coast and native of Sefwi Juaboso in the Western Region. He had 33 ballots to pip Solo who garnered 22.
Other elected regional executives of the party were Nana Kojo Toku, Chairman, Kwame Darko and Solomon Kobina Amoah, 1st and 2nd Vice Chairmen respectively, Mr. J.R. D. Kobinah, Secretary and Musa Adamu, Assistant Secretary.
The rest were Col. (rtd) Kaku Korsah, Organizer; Frances Awuraba Esi Amartey, Treasurer; Esther Bus-Kwofie, Assistant Treasurer.
From Emmanuel Opoku, Takoardi