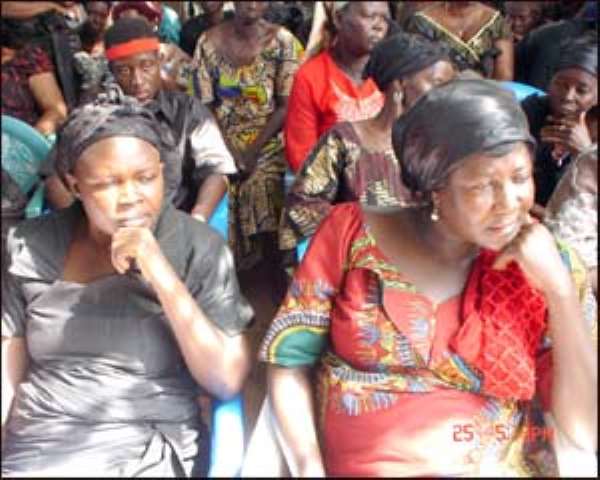 Widow (L) of the late Alando
UNCONTROLLABLE TEARS were shed last Friday in Nalerigu as the mortal remains of Moses Alando Banaba, a former pharmacy technician with the Baptist Medical Centre (BMC) were interred. 
Dignitaries including the Northern and Upper East Regional ministers, Stephen Sumani Nayina and Mark Woyongo respectively could not help but occasionally wipe their tears as several persons filed past the body and grieved over the death of the 53-year-old former teacher.  
The funeral attracted several people from all walks of life, including officials of the People's National Convention (PNC).
Several tributes poured in from the children, family, widows, friends and former employers, regretting his sudden departure and wished him a peaceful repose in the next world.
His children described him as a loving father who would stop at nothing to provide the best for them, promising not to disappoint him despite the tedious task ahead.
The East Mamprusi District Health Directorate described him as a hero, saying that his death was a big loss to the health sector as he contributed immensely towards healthcare delivery in the district and beyond.
According to the health directorate, the late Alando rose from various ranks at the health sector due to his punctuality, dedication to duty and humility to the rich, poor, children and adults.  
The deceased, who was a parliamentary candidate of the PNC, left behind six children, (three girls and three boys) and two widows, Madam Juliana Kojo and Sulamana Zenabu.   
Mr. Nayina bemoaned the shooting incident that led to the death of Moses Alando Banaba, noting that the incident had embarrassed Mamprugu.
He reiterated the commitment of REGSEC in curbing such instances in the future, stressing that "vengeance is of the lord" and warned them against retaliation which amounted to taking the law into their own hands.
It would be recalled that Moses Alando Banaba was shot and killed by Salifu Tia a.k.a Salifu Zongo a couple of weeks ago while on his way to work.
DAILY GUIDE sources however said the murder was believed to be a spillover of the long-standing turmoil in Bawku between the Mamprusis and Kusasis over chieftaincy.
His death triggered tension in the hitherto calm Nalerigu town after reports revealed that the suspect, with the support of some residents, fled the town for safety.
But he was arrested at Gologu near Gushiegu in the Gushiegu district of the northern region after he moved from one community to another in a bid to flee.
The suspect has since been remanded into police custody by a Tamale Circuit Court to re-appear at a later date.
However, six of his alleged accomplices have been released on police inquiry bail.
From Stephen Zoure, Tamale