Too much of wealth chasing - IGP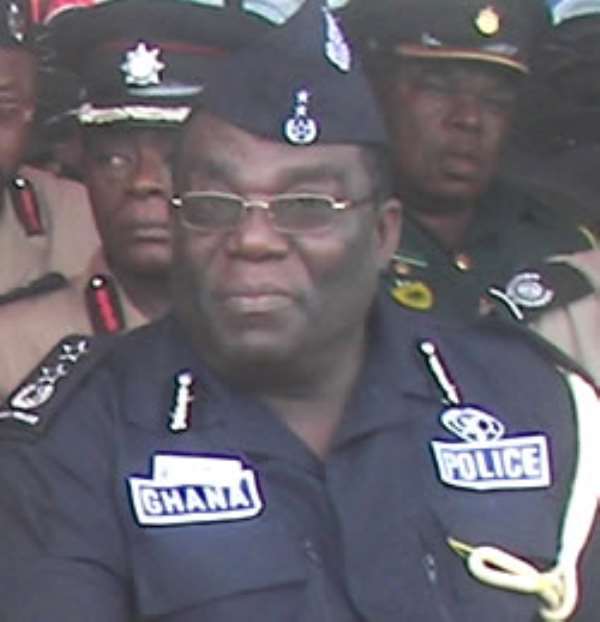 Mr Paul Tawiah Quaye, the Inspector-General of Police, has expressed concern about the current crave for wealth in the society.
He said this had been made worse because whilst in the past society frowned on unexplained sources of wealth, now those who used questionable means to acquire wealth were glorified.
Mr Quaye said this at the 86th Speech and Prize Giving Day of the Accra High School on Saturday, on the theme, "Moving AHISCO, Higher and Higher in these Changing Times."
Mr Quaye, an old boy of the school, and guest speaker for the occasion said, such questionable riches could be proceeds from crimes.
Such people, he said, "buy their way to become chiefs, societal leaders and unfortunately in some cases church leaders".
He said though many people were aware that most of these so called rich people had their wealth through dubious means, such as robbery, drugs trafficking, stealing and internet fraud, "yet we exalt them."
He said this sends' wrong signals to the youth who think the acquisition of money and wealth is all that mattered.
"For those of us associated with Accra High School, we have a duty to protect the image of the school through genuine hardwork and legitimate acquisition of wealth," the IGP stated.
He admonished the students to study hard to enable them to find placement in the numerous job opportunities the up-coming oil industry would provide.
Mr. Quaye said though the school could not offer direct courses, it could still play a vital role of moulding the students and directing them towards the pursuit of appropriate careers.

He therefore called for the establishment of a vibrant Guidance and Counselling Department, properly resourced to carry out research into job requirements of the petroleum industry.
"This will enable the school to guide students on appropriate subject-combinations that will help them gain admission to the universities to pursue relevant courses," he said.

The special guest of honour, Justice Isaac Duose, Judge of the Appeal Court, also an old student, advised the students to focus on their studies to achieve high education laurels.
He said if one is endowed with immense knowledge, it creates numerous opportunities to better one's life, irrespective of any challenges.
Justice Duose advised the students to fashion out their careers early and work hard to make them a reality.
Mr. Isaac Ohemeng-Gyebi, the headmaster, said the school authorities continued to maintain discipline which he described as necessary "for setting the standards of conduct to ensure that the right academic ambience is created for students."
"I will also ensure that the school had an orderly and supportive environment to enable staff and students set high standards and become task-oriented."
Mr. Ohemeng-Gyebi said the school would need the maximum support and co-operation of stakeholders to enable it move high on the education ladder.
Miss Dora Adom, a final year student, received the Best Student Prize in Economics and Integrated Science as well as the well behaved student award for 2009.