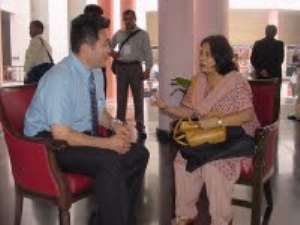 Exclusive CNS interview with Internationally acclaimed expert Dr Eisuke Fukuma (Japan)
Dr Eisuke Fukuma, Director of Breast Cancer, Kameda Medical Centre at Chiba, Japan, has done pioneering work in the field of endoscopic breast surgery and cryosurgery as a nonsurgical ablation.
He was recently in India to attend a conference on Minimal Invasive Surgery, hosted during the 35th Annual Conference of the Association of Surgeons of India, UP Chapter, at Lucknow, India, where he wowed everyone with his simplicity of manners and surgical expertise in the field of Endoscopic Breast Surgery.
In an exclusive interview to CitizenNews Service (CNS), he spoke at length on the recent advances made in the area of breast surgery.
Breast cancer is on the rise in India, with 80,000 new cases being added every year and an annual death toll of more than 14,000. Yet there is very little awareness about the disease, especially in its earlier stages. Also, India has very few female breast surgeons, which very often acts as a deterrent to the female patients in seeking medical/surgical interventions.
According to Dr Fukuma, this issue merits a lot of attention, as women need to seek medical intervention during the first stage of the disease. Surgery is ruled out completely in the third stage. He stressed upon the dire need of good quality and sustained breast screening programmes in India, in the same manner as polio eradication programmes.
In Japan, with 40,000 new cases added every year, one, out of every 20, Japanese women suffers from breast cancer. But government sponsored breast screening /awareness programmes done, with the help of MRI, under strict quality control are helping in early detection. Hence timely treatment of the disease is saving many lives.
At Kameda Medical Centre, 50% of the breast surgeons are women. At present, out of the 5 resident doctors in the hospital's department of breast surgery, 4 are women. This has gone a long way in encouraging women to seek medical advice.
When asked about the reason for the growing incidence of breast cancer, Dr Fukuma rued that the jet set pace of modern living was the main culprit. More and more women are marrying late and opting for late/no child bearing, which affects them biologically. Add to this the high consumption of junk food, as against the more nutritional traditional food. We have a perfect recipe for developing breast cancer
Endoscopic breast conserving surgery was developed originally in Japan, with a view to improve the cosmetic shape of the breast by reducing the scar-size and by changing the position of the surgical wounds. The purpose of endoscopic breast surgery (EBS) is to minimise skin incision and excision, as a skin sparing mastectomy.
This technique uses a long, narrow tube, called endoscope, which allows tiny surgical instruments to be inserted at a point far from the actual site of surgery. It is non invasive surgery, allowing for very small and precise incisions, without damaging nearby healthy tissues.
The surgeon is able to reach the entire breast through a one cm. hole made in the anterior auxilla (lower armpit), through which the tumour is removed. This is called the 'trans auxiliary retro maminary route'. The cut is so small that it leaves no scar, and the front/upper part of the breast is untouched, obliterating the necessity of contour surgery in most cases. Post surgery, sometimes a depression may appear in the breast which can be simultaneously corrected with breast implants, working through the same holes. Thus, this scar less breast surgery, avoids the second corrective/cosmetic surgery to reshape the breast contour, as both can be done at the same time.
Dr Fukuma started the technique of OSEA - 'Oncoplastic Surgery With Endoscopic Approach' in 1995, at the 900 bedded Kameda Medical Centre in Chiba, Japan. Till to date, he has operated upon 2000 patients, with this new technique, and has performed more than 400 total mastectomies with simultaneous reconstruction. According to him, the survival rate in endoscopic breast surgery is an encouraging 95%. Currently about 80% of the patients in Japan are opting for this type of breast surgery, as its cost is the same as that of conventional surgery, and the benefits are immense.
The cosmetic goal of OSEA is to maintain the four S – size, shape, softness and symmetry of the breast. Add to this two more S of Scar Minimize and Spare the Normal Tissue.
This hybrid technique, perfected by Dr Fukuma, to suit the Asian women (who have smaller breasts as compared to their western sisters), entails simultaneous/staged reconstruction after endoscopic total mastectomy; augmentation of breast and mobilization of tissue from the breast or other than the breast.
Dr Fukuma is also very optimistic about the future of Cryosurgery, which is the latest in the field of surgery, and can be used for removing small tumours of the size of 1cm or less. In cryosurgery, an image guided needle is inserted through a 3mm incision (the size of a mosquito bite). The tip of this needle, which is kept at a temperature of -68oC, forms an ice ball around the tumour. The cancerous tissue is killed at this low temperature.
More than 30 such non surgical cryo ablations have been performed successfully by Dr Fukuma under local anaesthesia, with the patient going back home after a few hours of hospital stay. The field of cryosurgery offers exciting possibilities. But it is still in its infancy, just being three years old, and more research is needed in this area before it replaces other conventional methods.
He expressed his gratitude for being given a platform to showcase his technique through video presentations, and to share his ideas with the medical fraternity at the UPASICON 2009. He hoped that his visit to India would mark the beginning of a new chapter of collaboration between surgeons of the two countries. Dr Anand Misra of CSM Medical University, Lucknow has already trained under Dr Fukuma in Japan, and is using these techniques in treating patients, albeit partly, due to lack of proper instruments.
Surely, more such training programmes can be organized, to disseminate the benefits of this latest technology to all and sundry.
Dr Fukuma hopes to extirpate breast cancer completely by developing endoscopic and cryo surgery. His aim is to give a new hope to the patients and to save lives. He has assisted in endoscopic surgeries in the USA and UK, and stresses upon the need of international collaboration in this exciting field of surgery.
His message is loud and clear - Fight the Menace of Breast Cancer Rather Than Surrender.
We hope that he succeeds in his mission to provide high quality relief to breast cancer patients, at affordable prices, without compromising upon the beauty of the end result.
Shobha Shukla
(The author is the Editor of Citizen News Service (CNS), has worked earlier with State Planning Institute, UP, and teaches Physics at India's prestigious Loreto Convent. Email: [email protected], website: www.citizen-news.org)