November 17, 2009
|
Business & Finance
Africa-China Relationship: Gains So Far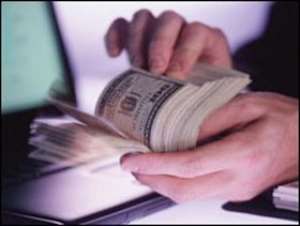 China has had a long involvement with Ghana and other African countries, dating back to the early days of the 1960's.
In those days, China's intentions were primarily diplomatic to counter recognition of Taiwan as the representative of China.
However, the current level and intention of China's involvement with the continent is different now.
One of the most important aspects of the Chinese presence in Ghana and other African countries from the commercial point of view is the massive influx of low-cost Chinese products onto the local markets, which ranged from mobile phones to medicine.
Recently, THISDAY, a private newspaper in Nigeria, reported that the trade level between China and Africa has gradually increased from $10 billion in 2000 to an estimated $55 billion.
According to the paper, the Chinese government hopes to hit the $100 billion mark before 2010, making it the most important foreign actor on the continent.
In Ghana, the Chinese community with a population of 750, 000, operates in almost every sector of the economy.
They are good inventors and imitators of products, making it very difficult for most Ghanaian consumers to differentiate between a Chinese product and one manufactured in the Western World.
With regards to the Ghana's construction industry, Chinese firms are winning important public works due to the very competitive prices that they offer. China won a contract to build the Bui dam, the Burma Hall Complex in Accra, one wing of the 37th military hospital, among other projects.
China has become the largest investor in Ghana in terms of the number of companies.
The Chinese Ambassador to Ghana, Yu Wenzhe noted that many Chinese companies in Ghana have been living up to their social responsibilities.
Mr. Yu Wenzhe also said the Chinese Embassy in Accra processed more than 200,000 visas for Ghanaians in 2008 to transact various businesses in China.
Apart from Ghana, China has also entered the Nigeria market as well. In July last year, China and Nigeria signed an $800 million crude oil sale agreement, setting in motion an annual purchase by China of 30,000 barrels a day for five years.
Much more significant is that China has won a licence to operate four of Nigeria's oil blocs as part of an incentive to build a hydro power station.
Beyond this is China's willingness to take over a privatized oil refinery in Nigeria, a money losing proposition that no western company would likely touch.
In all, China is expected to invest $7 billion in Nigeria, covering a wide variety of sectors.
Nigeria is among five African countries where China hopes to set up commercial centres that will become the offshore base for its commercial activities on the continent.
Chinese are also making a foray into the Nigerian financial sector .
In 2007, China Development Bank, which has an estimated asset of $440 billion entered into a Memorandum of Understanding (MoU) with the United Bank for Africa (UBA), which was evaluated at $5 billion.
The pattern is the same elsewhere.
In Zambia, China has invested nearly $170 million in the mining sector. China is now the world's largest consumer of copper; with the U.S occupying the second position. China has been active in the Democratic Republic of the Congo, a country crippled by civil war and instability.
Despite these conditions in the country, China has begun investment in cobalt and copper mines and has begun works on roads to facilitate mineral exports and other power projects as well.
China is developing a luxury hotel in Sierra Leone, an unstable country, making other investments in areas where others would fear to invest.
In Uganda, a Chinese pharmaceutical firm is introducing a new anti-malaria drug and bidding for contracts to supply treated bed nets.
China's indifference to political controversy is illustrated in its close relationship with Zimbabwe. The country is the principal supporter of the Mugabe regime, which is reviled in the international community for the crushing of opposition parties.
The country recent removed hundreds of city residents to the rural areas with no respect for life, health or satisfactory alternative arrangements.
Reports say China is investing in minerals, roads and farming and supplying President Mugabe with jets and other military armaments.
"Zimbabwe is all but owned by China," observers stated.
In return for a rare hand of friendship in an increasingly hostile world, President Mugabe has offered Chinese companies almost anything they want, regardless of payback.
China has also become the principal investor in the oil industries in Angola and Sudan and other related transport and infrastructure projects.
China was able to do so because western companies, particularly American and Canadian firms were pressured to withdraw from these countries because of the civil war.
Sudan represents the clearest example of how China comes to Africa with what one would call the "complete package" (money, technical expertise and influence.)
China, together with its partner Malaysia, replaced western companies and enabled Sudan to become a net exporter of crude; with China becoming the biggest customer.
China has more recently become an important player in the energy field on the West coast of Africa, which is the largest producer of oil on the continent.
West Africa provides the United States with 15 percent of oil imports and this is projected to grow to as much as 20-25 percent over the coming decade. Nigeria and Angola are the main producers with the country becoming an active player in both countries.
In connection with its bid to win rights to explore a bloc, China offered Angola a $2-billion soft loan as part of a long-term aid package.
This is because Chinese aid packages come with no conditionality related to governance, fiscal probity or other concerns that now drive western donors.
The IMF and western countries have been pressing Angola to improve the transparency of its oil sector and to make other reforms as prelude to a planned donor's conference.
But Angola seems less concerned with meeting the conditions and the Chinese loan is seen as having had an influence.
China's deputy foreign minister, Zhou Wenzhong, told journalists recently that "Business is business. We try to separate politics from business."
"The West has tried to impose a market economy and multi-party democracy in countries which are not ready for it.
"We are also against embargoes which the west has tried to use against us," he said.
The increased level of trade underscores Africa's growing importance to China, particularly countries like Nigeria and South Africa.
F. K Young, a Chinese working with the Ghana Judicial Services, told this paper that "Chinese are interested in investing in a place where the population is big."
"We believe that the bigger the population, the more our products and services are consumed for us to make profits," Mr. Young added.
It will interest one to note that along the coastal countries of West Africa, one is likely to find huge Olympic-style stadia that are the hallmark of Chinese donations.
"For some decades now, China provided technical expertise, doctors, scholarships and various forms of aid and today, more than 900 Chinese doctors work in African countries," a research by Princeton Lyman, Director of Africa Policy Studies has revealed.
The above are just the few countries that China has invested. The list could go on and on.
This piece is basically the good aspect of China's rising role in Ghana and other African countries.
Next week, the writer would look at the other side of the coin, especially the influx of Chinese goods in Africa and the effect on local production.
Book a copy of next week's edition of Daily Guide and read this interesting piece, which is being supported by Panos Institute of West Africa (PIWA).
By Felix Dela Klutse