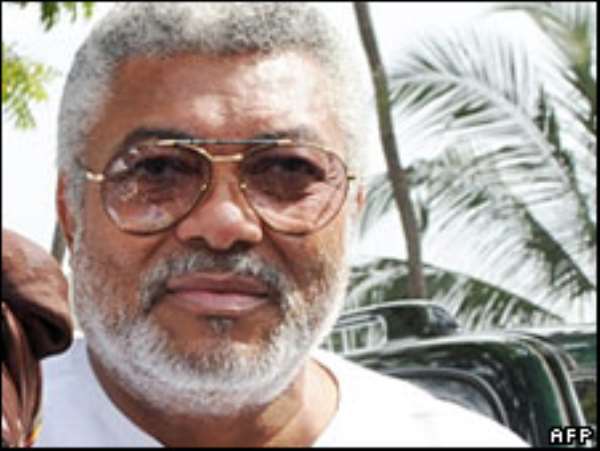 Mr. Rawlings
Write today's date down; you may never hear this again. Akua Bonsu goes on record to agree with some important assertions that former president Jerry John Rawlings has been making. When one looks at where Ghana is at the moment, and one also looks at the quality of officials populating the Mills administration, one cannot help but arrive at the conclusion that sophistication was never a yardstick, and that the Mills administration is filled with mediocre officials. On this conclusion, Akua Bonsu and former president Rawlings are in total agreement.
That, however, is where the agreement ends because ironically, Rawlings himself is to blame. Since its inception, the NDC under then President Rawlings has never really highlighted education, maturity, and sophistication as prerequisites for appointment and Rawlings himself, given his background, epitomizes this attribute of the party. It appears that the most overriding prerequisite is a profound hatred for anything UP, NPP or Akan; if one exhibited that quality, one got the job. Why else would the likes of Awonoo, who authored a book suggesting a sinister plan to wipe out the Akans, enjoy such notoriety in the Rawlings and the current Mills administration? This and other instances of hatred and ineptitude unmasked are on full display by people holding high level positions in NDC governments.
For an example of unacceptable exhibition of hatred, "KOKU ANYIDOHO, President John Evans Atta Mills' Director of Communications at the Osu Castle, has downrightly stated that he hates ex-President Kufuor more than any other person in the country" (Daily Guide, Thursday October 8, 2009). Mr. Anyidoho further stated "I don't like his face, so I don't want to hear anything about him." This is the Director of Communications at the Osu Castle, the seat of the government of Ghana.
Anyidoho, despite his lack of sophistication and utter incongruence to the position he holds, can hardly be blamed. After all, his hero knows no other type of language when it comes to describing the opposition party and its members. So uncontrollable is Rawlings' mouth that at a recent international event to which he and President Kufuor had both been invited to, he stated during his presentation that he thought they were inviting leaders with integrity, and that he did not know they were inviting thieves like Kufuor. One leader stood up to immediately chastise Rawlings for such loose talk.
There is no avoiding the reality that Rawlings has poisoned the tone of politics and tribal relations in Ghana for the last three decades. And if we as a people do not tread carefully from this point on, our political destination may be no different from the Liberias, the Rwandas, the Zaires, et ceteras. They all began on the same road that we are currently travelling whereby opinion differences are elevated to represent the symptoms of tribal differences. It always goes downhill from that point. And no matter how tolerant a group of people are; no matter how much they cherish peace, at some point, they will decide to fight back; they will decide to meet fire with fire. By that time, hostilities would have festered for so long that the regard for human life goes out of the window.
No one stays angry for as long as Rawlings has been at the Akans unless some physiological or chemical disorder is playing a role. The norm would have called for Rawlings to look back at his killings in 1979 of mainly Akan leaders with contrition. Maturity that comes with age would have called for Rawlings, at his current age, to view his perceived vices by others with more caution. At some point in our lives, experience should tell us that everyone is entitled to the benefit of the doubt – especially in a country where the absence of a Freedom of Information Law reduces most public charges to mere speculations.
For Rawlings to still exhibit the same level of sheer hatred, which ironically is highly misplaced, as he did back in his revolutionary days is simply abnormal. And what he has to realize is that even if Hitler can have followers, so can anyone who has occupied a leadership position for so long. Those followers take cues; they emulate in order to please their hero, especially if he is alive. Any wonder, therefore, that those who have come through the ranks of the NDC party, which Rawlings literally owns, would spew hatred in their utterances. Is it any wonder, therefore, that the NDC youth have embraced a modus operandi of violence whenever they do not get their way?
Clearly, Rawlings would not take advice from me. But a hard look in the mirror would do him some good. When some young men go on violence spree and kill people so they can gain control over their public toilets, does he see images of that young, frail looking guy in army fatigues standing on top of a tank punching the air with his fist? When the BNI and other government operatives go snatching luxury vehicles from their drivers in the street, does it remind him of the Rawlings who abolished the 50 cedi note and caused many to lose huge sums of money because his government failed to repay those who heeded his directive to return those notes to the bank on short notice? A very wise old man once told me that those at the top today could be at the bottom tomorrow, and that what they do to those at the bottom today is what they should themselves expect when their time comes. Add that advice to the adage "no condition is permanent" and you will agree that poisoning the political atmosphere helps no one.
By: Akua Bonsu
Development / Accra / Ghana / Africa / Modernghana.com