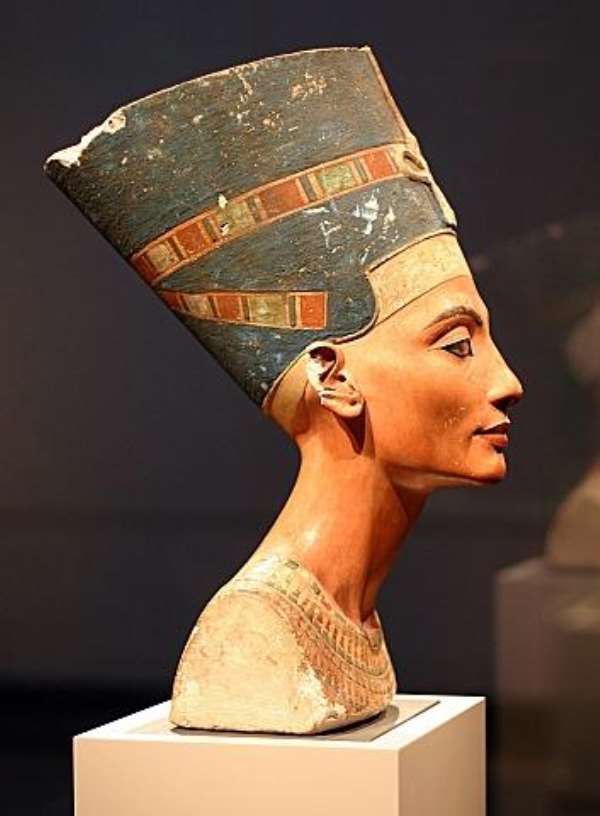 Nefertiti, Egypt, now in Neues Museum, Berlin, Germany
"The history of the bust of Nefertiti shows very clearly how hollow it can sound when Germans and other Europeans refer to legal principles in relation to the "Third World."

Gert von Paczensky and Herbert Ganslymayr (1)
Nefertiti, Egypt, now in Neues Museum, Berlin, Germany
The intensive and extensive publicity surrounding the re-opening of the Neues Museum in Berlin and the renewed demands by Zahi Hawass made it inevitable that all those interested in restitution of looted/stolen cultural objects would pay attention to the recent celebration of the renovated museum on the Museums Island in Berlin.(2)
We were prepared to see a large number of persons at the opening of the museum but we did not expect the massive crowd we met on our arrival. Tickets for the museum were sold out and one had to buy tickets for the next day and to come at a definite time. The interest of the public, both German and foreign, was evident. Most of the crowd came essentially to see Nefertiti in her new surroundings.
Readers know the story of the bust of the Egyptian Queen that was surreptitiously taken away in 1912 from Egypt by the German archaeologist Ludwig Borchardt under circumstances not fully clarified and which has been a subject of contention between the Germans and the Egyptians for decades.(3)
When we finally managed to see Nefertiti, we were shocked to see her in a semi- dark room where she appeared lonelier than ever. In perhaps, a typical African reaction, I asked myself where her husband, her relatives and servants were. A queen without company or servants? Later on we realized that members of her family, her husband Akhenaten, her mother-in-law, the impressive and beautiful Tiye (4) were in an ante-chamber leading to the dark location of Nefertiti. In her previous location, in the Alte Museum, Nefertiti was in a well-lighted hall with her relatives.
Queen Tiye, Egypt, now in Neues Museum, Berlin, Germany.
Our greatest surprise was to realize that Nefertiti was not alone in the small hall despite press information that she was returning to a palace of her own. Lurking in the semi-darkness was a figure, obviously non-Egyptian and in modern European attire. On close examination, we realized that this was the bust of James Simon, the great benefactor of the museum who financed the
excavations of Ludwig Borchardt in Amarna that resulted in Nefertiti being
sneaked to Germany. One can understand the desire of the German museum officials to honour their great benefactor. However, it is legitimate to question whether he has more rights to be presented with Nefertiti in a separate room, to the exclusion of her husband Akhenaten and her mother-in-law, Tiye. Is Simon more related to the Egyptian Queen than the Egyptian pharaoh who made her queen and hence important for Egyptian history? Many non-Europeans will be surprised by the presentation of Nefertiti in semi-obscurity with a man who is neither her husband nor relative. It is true though that Europeans and European museum directors are not overly concerned with the sensitivities of non-Europeans whose cultures they display in the museums. They expect all of us to possess European sensitivities, tolerance or lack thereof in such matters even
though a little reflection would demonstrate the absurdity of such expectations.
If the proverbial arrogance and stubbornness of the museum directors would permit, here is a case where they should make immediate correction and move the bust of Simon to a more appropriate place. There is clearly a lapse here. The importance and significance of James Simon for the Museums Island cannot be signalled by putting their great benefactor in the shadow of Nefertiti, however important she may be. (5) Simon, unlike some of the museum directors, was not a worshipper of Nefertiti.
Or are we dealing here with another history? The kind of history or story which Neil MacGregor, director of the British Museum, proposed to write for the looted/stolen objects in the British Museum? (6) Perhaps this is an implementation of the assertion of the Declaration on the Value and Importance of Universal Museums (1982) that the looted foreign objects in European museums have become part of the history and culture of those countries where they are located. (7) An assertion unsupported by an evidence of the culture of those countries. A similar assertion was made by the organisers of the recent Benin exhibition when they asserted that the looted Benin objects have acquired additional value in Europe and shifting meanings and therefore did not belong exclusively to the history of Benin.(8) Whatever may be the scientific value of such self-interested theories, Africans and Asians cannot accept that their cultural objects looted or transferred under dubious circumstances are no longer part of their history and subject to interpretations by those responsible for the disappearance of the objects from their original locations.
It is also interesting to note that the excavations at Amarna, financed by Simon, brought to Germany many more other objects in addition to the bust of Nefertiti. So why concentrate on one object rather than the whole lot? Recognition to the museums benefactor should surely be linked to the whole collection rather than to one object. It is also ironical that Simon who gave the bust to the museum was willing to return it to the Egyptians in exchange for artefacts that Egypt was offering in accordance with German requirements. Simon published an open letter in the "Berliner Tageblatt" of 28th June 1930, in favour of an exchange of Nefertiti for other sculptures. He referred to other Egyptian artefacts which were, from the artistic point of view, more accomplished than the bust of the Egyptian Queen.(9) In a contribution entitled, "Egyptian Museum and Papyrus Collection", Dietrich Wildung, Director, State Museums of Berlin, wrote:
"In 1930 Egypt suggested an exchange of the Nefertiti for superior quality objects from the Egyptian Museum in Cairo. James Simon was in favour of the suggestion, as he hoped that it would enable Germany to resume excavations in Egypt that had been interrupted in 1914 and thus place the country back on the international stage of Middle East archaeology."(10)
If it is desired to acknowledge the immense contribution that James Simon made to German culture and specifically to the museums, his bust should be removed from obscurity, from the shadow of Nefertiti, and placed openly at a visible position in the museum. One could suggest to the Germans: if you really want to honour the great benefactor, return Nefertiti to the Egyptians as Simon had wanted in his open letter of 28 June 1930 in the Berliner Tageblatt. The present representation of Simon in the museums smacks of half-heartedness and reluctance. The obvious inconsistencies here seem to indicate profound difficulties in recognizing or denying the undoubted contributions of James Simon. It should be mentioned that in the Master plan for the Museums Island 2015, it is projected to build a James Simon Gallery which will surely be a more fitting recognition than placing his bust in the shadow of Nefertiti. (11)
Germany has not yet officially reacted to the latest demand of Zahi Hawass for the return of the bust of Nofreteti. However considering the number of Egyptian artefacts that the Germans have, it seems rather shameful that they should continue such a dispute with Egypt. (12) How many German artefacts do the Egyptians have? Have the Germans considered the possibility of sending some of their important historical objects and documents to Egypt? Does international cooperation only work one way? Westerners should reflect on the number of Egyptian and other African artefacts they have accumulated in their museums before they argue with Africans about restitution.
Germans should also consider the fact that in retaining the bust of Nefertiti, they are confirming the decision of their notorious murderous leader Adolf Hitler. They are not fulfilling the wishes of James Simon who paid for the excavations that eventually brought Nefertiti to Germany.
Berlin has not only the bust of the Egyptian queen Nefertiti but also other icons of African art such as the bust of Queen-Mother Idia, Benin, Nigeria. These other objects from the rest of Africa, following Hegelian prejudice and European discrimination, are kept far away from the centre of Berlin, from the Museums Island where European art icons are to be found. Idia and other African icons are found in the Ethnologisches Museum, in Dahlem, a suburb of Berlin.
Queen Mother Idia, Benin, now in Ethnologisches Museum, Berlin
On entering the museum, one sees immediately an image of Idia, hanging over the staircase leading to the Africa Section as well as to the Museum for Asian Art. Throughout our visit we did not see a designation such as "Museum für Afrikanische Kunst" although we saw titles such as "Museum für Asiatische Kunst". There are also in Berlin a "Museum für Islamische Kunst" and a "Museum für Europäische Kulturen". It seems some people still have difficulties in accepting the concept of African art. They are prepared to emancipate Asian art from the area of the ethnologists but will not go so far as to free also African art from the gaze of the ethnologists. African art seems forever condemned to remain in the domain of the ethnologists who developed their discipline as specialists of those peoples Europeans regarded as "primitive".
In the Africa Section, all the objects are thrown into semi-darkness with spot lights directed to particular objects. This seems to be a way of presentation the ethnologies and museum directors like but I see it mostly applied to displays of African objects. It seems many Europeans cannot give up the false association of Africa with darkness even though we have more sunlight than most parts of the world. Once we passed the semi obscurity of the sculptures and other African objects, we were surprised to see a poster for a Benin exhibition.
We did not expect to see any exhibition on Benin after the successful Benin Kings and Rituals - Court Arts from Nigeria, 2007-2008, which attracted great attention and gave renewed impulse to discussions on the restitution of the Benin bronzes looted in 1897 by the invading British army. In its folder for the public, the Ethnologisches Museum states that the present exhibition comprises of some 300 Benin objects from its collection which are being shown for the first time in the history of the museum to this extent; in addition to well-known objects, the museum was displaying objects that had never been shown to the public. (13)
British officials with looted Benin artefacts.
The statement by the museum that many of the Benin artefacts in its possession since 1897 are being displayed for the first time is an admission that the museum has not been displaying them in public, at least in their totality. How is this admission compatible with the argument that the museums need these objects for the enlightenment of their public? How do you teach or inform people about objects that are not shown to them? This admission is a confirmation of our argument that most Western museums have far more objects than they can usefully display. In view of this situation, how can they justify their refusal to consider returning or lending to their original owners any of the many looted/stolen African cultural artefacts they hold?
Bronze bells, Benin, Nigeria, now at the Ethnologisches Museum, Berlin, Germany.
The current Benin exhibition also offers ample evidence that the museum has many Benin bronzes that it cannot possibly need, such as the many commemorative heads and the gongs. So why do they not send a few back to the original owners as the Oba of Benin has been requesting now for decades? They refuse even to acknowledge receipt of demands for restitution in order to continue pretending that there has been no demand for restitution. (14)
Do keepers of cultural objects of others who make a living and reputation by displaying and writing about them have to be so contemptuous of the original owners? Do Germans need the commemorative heads more than the people of Benin who use these heads to mark important dates and personalities in their history and culture? Has Germany ever written its history with such foreign cultural objects? Do these objects constitute part of the archives of German history?
Commemorative head, Benin, Nigeria, now in Ethnologisches Museum Berlin, Germany.
In the Ethnologisches Museum was another exhibition entitled, Bamum: Tradition and Innovation in Cameroon. A folder of the exhibition indicates that among the best known objects in the museum is the throne from Bamum which is said to have been a gift from King Njoya to Kaiser Wilhelm II.
Readers will recall that Cameroon was the site of one of the most brutal colonial regimes. (15) The exhibition shows how the King tried to innovate his kingdom despite the oppressive presence of the German colonial regime.
Cowry decorated throne from Bamum.
In addition to Benin and Cameroon, there was also an exhibition entitled Afrika in Berlin which showed an impressive Ijele mask from Ibo culture, made by the artist, Chief Anayo Nwobodo and presented by the Nigerian association in Berlin, Ikuku Berlin.
Ijele Mask by Chief Anayo Nwobodo, Nigeria.
We were pleasantly surprised to see this beautiful mask which indicated that the Ethnologisches Museum was not ignoring the Nigerian community in Berlin. It showed that African cultures are living and not dead or static. We were however irritated to realize that even though in one of the exhibition pamphlets, Chief Nwobodo is mentioned by name, in some other printed materials distributed at the museums the, artist was simply described, as "a Nigerian artist" ("nigerianischer Künstler") without mentioning his name. Information on the exhibition on sites of the museums also refers to a "Nigerian artist."(16) This may appear to some as a small matter but would anyone, seeing a work of this size describe the artist, without mentioning his name as, "a German artist"? This refusal or inability to mention the names of African artists follows the tradition of Europeans to present African works of art as somehow made by anonymous artists in a community. It also translates a belief that there is one style for every ethnic group. This lack of respect for the individual African artists can be seen for example, in a case where the director of the British Museum, London, refers to an important piece of art work, La Bouche du Roi, by Romuald Hazoumé, Republic of Benin, which the museum has bought but fails to mention the artist by name and refers to him as "West African artist". (17) This shows that the prejudices concerning African culture die hard even among those who should know better. No doubt such lapses are not always intentional but it is precisely this lack of sensitivity, displayed uniquely where Africans are concerned, that renders the matter extremely irritating.
We gained the impression that the Ethnologisches Museum is making some efforts to address some of the concerns expressed in the past regarding the presentation of African arts by ethnologists. However, there seems to be some reluctance to accept African arts and artists as the equals of their European counterparts.
On the main issue of restitution of stolen/looted African cultural artefacts, one can see all the expositions in Berlin without a hint that Egypt is requesting the return of Nefertiti and that Nigeria has been demanding the return of some of the Benin bronzes. There is no where mention of this issue in the presentations. Is this scientifically acceptable? Is this not a partial and partisan rendition of the reality of cultural relations between Europe and Africa when major demands of Africans are ignored through silence or omission? Even in an area where morality appears to have been banned by Europeans, should scholars not tell the full story? Are the demands by Egypt, Ethiopia and Nigeria not part of cultural relations and the reality of our times?
Germany and other Western States may build as many museums and palaces for artefacts such as Nefertiti, Rosetta Stone and the Benin Bronzes but so long as the legitimacy of their possessions, mostly looted with violence, threat of violence or transferred under dubious circumstances, has not been clarified, so long will they face questions and criticisms. The issue will not go away by refusing dialogue with the original owners. New generations of successors will persevere in demands which cannot be abandoned without denial of one's self-respect and identity in the face of constant denigration and arrogance from the Western States that are not willing to admit the commission of wrongful acts in an earlier period in their history. Whilst it may be possible to pardon former imperialists and colonialists who acted according to the beliefs and circumstances of their times, it is very difficult to see any valid grounds for the conduct of their successors. Some pretend to abjure the practices and beliefs of the past but are not prepared to part with any of the fruits of the illegitimate and cruel activities of their predecessors.
It is only on the assumption that fairness, morality, harmonious international relations, resolutions of UNESCO and the United Nations are irrelevant to issues of restitution that States such as Germany, France, Great Britain, United States, Belgium and the Netherlands can afford to argue with Egypt, Ethiopia, Nigeria and other States about the restitution of looted/stolen cultural objects.
"On the other hand, even after giving away the colourful bust of Nefertiti, the Berlin Museum would still be far superior to all other collections, including that in Cairo, as regards the number and artistic value of the artworks from the Amarna period. And among our stock are many pieces that are of higher artistic rank than the elegant bust of the colourful queen".
James Simon, 28 June 1930 (18)
Portuguese soldier, Benin, Nigeria, part of the loot of 1897, now in Ethnologisches Museum, Berlin, Germany.
Kwame Opoku, 16 November, 2009
NOTES
1. "Die Geschichte der Nofretete-Büste zeigt sehr deutlich, wie hohl es klingen kann wenn sich Deutsche und andere Europäer gegenüber der "Dritten Welt" auf "rechtstaatliche Prinzipien berufen".
Nofretete will nach Hause: Europa - Schatzhaus der "Dritten Welt",
C. Bertelsmann, 1984, p.307.
2. K. Opoku, "Zahi Hawass Strikes Again", http://www.modernghana.com
3. Many thousands of cultural objects have been stolen or illegally transported from Egypt so that one cannot hope to do justice to the issue here. Nefertiti is the best known case of unjust possession by European museums of cultural objects from Africa and elsewhere. The Egyptian Queen, whose famous bust is presented everywhere, is for some, the very essence of beauty. The Germans, who have been illegally detaining the African queen for almost hundred years, now claim that she is a German, a "Berlinerin." But how did this Egyptian queen end up in a German museum?
On 6 December 1912, when Egypt was still under Turkish domination, a group of German archaeologists and Egyptian assistants, under the leadership of the German archaeologist, Professor Ludwig Borchardt, dug out what turned out to be the bust of the Egyptian queen, Nefertiti. The practice at that time was that when such findings were made, they were presented to a committee that decided what part was to remain Egypt and what part would go to the country of the archaeologist that funded the excavation. The committee was always presided over by a European and in this case, a Frenchman. Many of the members were Europeans. In this particular case, Borchardt, was also a member of the committee. According to Gert v. Paczensky and Herbert Ganslmayr, Nofretete will nach Hause; Europa - Schatzhaus der "Dritten Welt", Borchardt covered the find with a layer of grime, in such a way that the member of the committee who made the evaluation of the found did not see properly the whole lot and thus was not aware of the importance of the find. It was decided to leave the socle on which the bust stood in Egypt and let Borchardt have the bust. From documents later available, it was clear that the professor realized how important the finding- was and was planning to take it to German. When the bust came to Germany in August 1913 it was kept secret for some ten years and not exhibited so as to avoid the Egyptians getting to know about it. Finally, in 1923, after a decade, the bust of Nefertiti was shown in a book by Borchardt, "Porträts der Königin Nofretete". After this publication, the Egyptians started demanding that the bust be sent back. But the Germans have refused to return the bust.
See Kwame Opoku, "Nefertiti, Idia and other African Icons in European Museums: The Thin Edge of European Morality",
http://www.modernghana.com
4. Ludwig Borchardt has described Tiye as "one of the most remarkable personalities of Egyptian history". L. Borchardt, Der Porträtkopf der Königin Teje im Besitz von Dr.James Simon in Berlin, Otto Zeller Verlag, Osnabrück, 1984 p.29
5. In his excellent book, James Simon :Philanthrop und Kunstmäzen, (Prestel Verlag, 2006), Bernd Schultz, wrote: "One of the most appropriate tributes to Simon's extraordinary significance would be the dedication of the Egyptian Museum as the "James Simon Museum for Egyptian Art" or the dedication of a central area on the Museums Island." p.24.
6. Neil MacGregor, "The whole world in our hands", http://www.guardian.co.uk
Some of MacGregor's treacherous ideas have been discussed in "Benin to Chicago: In the Universal Museum?" http://www.museum-security.org
7. http://icom.museum/universal.html See also Tom Flynn, The Universal Museum - a valid model for the 21st Century? http://www.tomflynn.co.uk/ ; Mark O'Neill, "Enlightenment museum - universal or merely global?" http://www.le.ac.uk/ms/
8. Barbara Plankensteiner, Ed. Benin - Kings and Rituals - Court Arts from Nigeria, Snoeck, 2007 p.17.
9. The Bust of Nefertiti: A Chronology Nefertiti Travels http://www.nofretete-geht-auf-reisen.de/echronol.htm See also, Annex I
10. D. Wildung, Director, Egyptian Museum and Papyrus Collection, State Museums of Berlin, "Egyptian Museum and Papyrus Collection", in Bernd Schultz, James Simon:Philanthrop und Kunstmäzen It is interesting to note that Wildung himself opposed the idea of letting Nefertiti travel to Egypt. He thought she was to frail to travel. http://news.bbc.co.uk/2/hi/6632021.stm See also criticism of Wildung at
http://www.elginism.com/20070502/726/
11. 2015 Museumsinsel Projektion Zukunft
http://www.museumsinsel-berlin.de
12. Some of the German museums with large collections of Egyptian artefacts are listed below. We did not find any Egyptian museums with collections of German artefacts. The Ägyptisches Museum in Berlin alone has some 100,000 pieces. http://en.wikipedia.org/wiki
Ägyptisches Museum und Papyrussammlung, Berlin, http://www.smb.spk-berllin
Kestner Museum, Hannover
Roemer- und Pelizaeus-Museum, Hildesheim
Ägyptisches Museum, Leipzig
Staatliches Museum Ägyptischer Kunst, München
Museum Schloss Tübingen
Naturmuseum Senckenberg,
We leave out the many collections of Egyptian artefacts in European and American museums. See list of museums with Egyptian artefacts http://www.fitzmuseum.cam.ac.uk/er/museum.html
13. Folder entitled, Afrika in Berlin, Zeitgenössische, Bamum, Benin.
14. The Art Institute of Chicago, Field Museum, Chicago, and the other Western museums have so far refused to answer the demands made by the Benin Royal Family and the Nigerian Government to return some of the Benin Bronzes. See Annex II below.
15, There are many excellent books on German colonial rule such as
Horst Drechsler, Südwestafrika unter deutscher Kolonialherrschaft.
Der Kampf der Herero und Nama gegen den deutschen Imperialismus (1884-
1915). Berlin, Akademie Verlag, 1985; Horst Gründer, Geschichte der
deutschen Kolonien, Paderborn: Schöningh, 2000; Helmut Bley,
Kolonialherrschaft und Sozialstruktur in Deutsch-Sűdwestafrika (1894-1914),
Hamburg, Leibniz Verlag, 1968; Robert Cornevin, Histoire de la colonisation
allemande, PUF, Paris, 1969. Helmut Strizek, Kolonien Geschenkte:Ruanda und
Burundi unter deutscher Herrschaft, Berlin, Ch.Links Verlag, 2006. The reader may also wish to read, K,Opoku, "Benin to Berlin Ethnologisches Museum:Are Benin Bronzes made in Berlin?" http://www.museum-security.org
16. Ausstellungen Veranstaltungen-Oktober-November-Dezember 2009
http://www.smb.museum
17. K.Opoku, "When will everybody finally accept that the British Museum is a British Institution? Comments on a Lecture by Neil MacGregor."
http://www.modernghana.com
Similarly, in his contribution to James Cuno's Whose Culture? Princeton University Press, 2009 (pp. 48-50) MacGregor uses the work of Cristovão Canhavato (Kester) from Mozambique, Throne of Weapons, to illustrate his thesis but does not mention the artist by name even though the work had been bought by the British Museum in 2002 and is prominently displayed in the museum. Under the photo of the work is simply written "Mozambique" even though the homepage of British Museum gives full information about the artist, the work and its history. Does MacGregor not read the homepages of the British Museum? Or he just does not think African artists need to be mentioned by name?
18. See Annex I
ANNEX I
OPEN LETTER FROM JAMES SIMON TO THE GERMAN MINISTER OF SCIENCE, ART AND EDUCATION, 28 JUNE, 1930.
(REPRODUCED IN NOFRETETE WILL NACH HAUSE, PP. 304-305)


ANNEX II
LETTER ON BEHALF OF THE OBA OF BENIN TO HOLDERS OF BENIN BRONZES



Development / Accra / Ghana / Africa / Modernghana.com