Rawlings' aide lashes out at Mills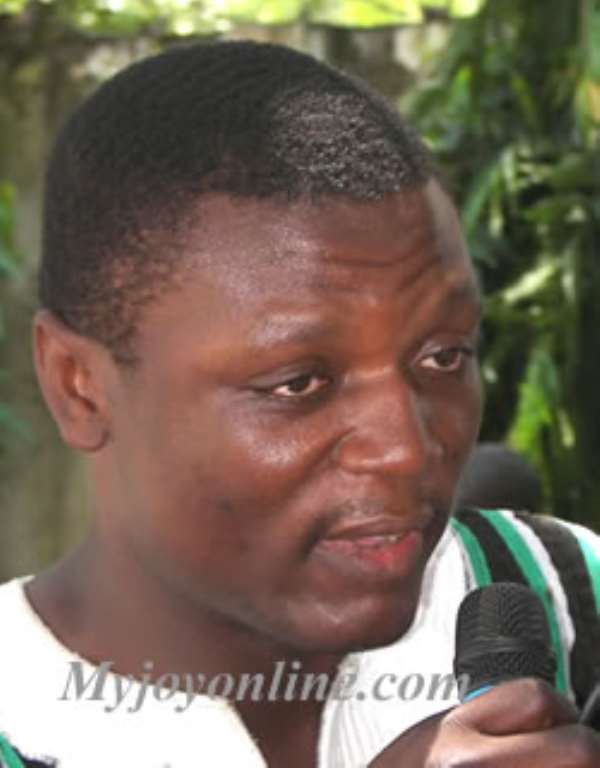 Mr Kofi Adams, personal aide to former president Jerry Rawlings, and youth organiser of the NDC

© Copyright Myjoyonline
The youth organiser of the ruling National Democratic Congress (NDC) has criticised President Mills for failing to unravel wrongs under the Kufuor administration.
Kofi Adams, who is also aide to former president Jerry Rawlings, said President Mills has failed to appoint officials who can expose what he describes as rot left by the erstwhile Kufuor administration.
Mr Adams made the remarks at the NDC's Tertiary Education Institutions Network or TEIN at the University for Development Studies, Wa.
He said the president could have done more to deal with the misdeeds of the previous administration in his first year in office.
"A lot has gone wrong in the last eight years that is why for me I would have thought that we would have started our first year with persons who have been deeply involved in the last eight years and know what has gone wrong to be able to arrest and stop it immediately and deal with it," Mr Adams said.
"Where we failed is that we did not do so well in putting persons that can deal with and expose this rot for the people to know that it is their mismanagement that has brought us this far."
Mr. Adams also insisted that President Mills should review oil agreements approved by the Kufuor administration.
"Young people of this country have listened to, have read and have heard about all kinds of agreements the previous administration went into, as far as the oil find is concerned. And that if our president allows those agreements to stay as they are, Ghana is the ultimate loser," he stressed.
"And we the young people on whose future these resources, if well managed depend, are demanding of our president to do what is right by opening up those agreements and making sure that Ghana is the ultimate beneficiary of our oil find," he said, driving loud applause from his audience.
Mr Adam's criticism comes amid several others also from within the party but officials have ruled out reports of internal wrangling.
A key member of the party Dr Ekow Spio-Garbrah recently launched scathing attacks on the president describing some of his appointees as performing below par.
This was perhaps a corroboration of an earlier call by the Member of Parliament (MP) for Kpone Katamanso, Nii Afotey Agbo, for President Mills to either disengage or reassign the information Minister Zita Okaikoi.
President Mills has however on some platforms defended the performance of his ministers suggesting certain obvious challenges have affected their output.