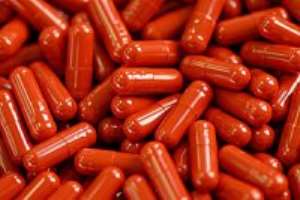 The President of Pharmaceutical Manufacturers Association of Ghana, Dr Michael Addo has called on Government and ECOWAS to assess the feasibility of establishing a region-wide regulatory agency to evaluate and approve drugs.
He said the institution should operate alongside national regulators to achieve universal access to medicines and strengthen domestic pharmaceutical industries.
Dr Addo made the call at a two-day validation workshop on the theme: "Increasing Access to Medicines: Availing Ghana of Opportunities in the WTO-TRIPS Flexibilities", in Accra on Thursday.
It was organised by Ghana Health Service (GHS) in collaboration with the Ministry of Trade and Industry and TRADECOM Facility for African Caribbean Pacific (ACP) countries, under the European Union.
The workshop was to build capacity of local pharmaceutical industries in line with the WTO-TRIPS Agreement to be competitive to meet local demands.
Dr Addo said most local pharmaceutical industries were collapsing due to the lack of competition and the preferences of foreign pharmaceutical products.
He mentioned free zone boundaries, the influx of cheap products from China and India, competitive bidding and manufacturing at large scale for national and international markets as problems facing the industry.
Dr Addo stressed the need for government to ensure full incorporation of all Trade-Related Aspects of Intellectual Property Rights (TRIPS) and Safeguards in national legislations to promote domestic pharmaceutical industries.
He said like most other developing countries, Ghana had to work hard to achieve universal access to medicines for managing AIDS and treating malaria, tuberculosis and other disease afflicting many people in the country.
Dr Addo said Ghana's own laws and policies concerning intellectual property, competition, trade and drug regulation, as well as other relevant international and regional agreements and initiatives had gaps that hindered major progress of local industries.
These include unfavourable conditions such as high cost of borrowing, low purchasing power of the local people, problems with free zone boundaries and the influx of cheap products from China and India, competitive bidding and manufacturing on large scale for national and international markets.
Dr Addo noted that these constraints often led to high cost of doing business with very low returns but the local pharmaceutical industry could contribute to public health in the wider ECOWAS region as long as the removal of barriers to trade could be accelerated and there was the need for wider scientific research for WHO pre-qualification.
The Director, Policy Planning Monitoring and Evaluation at GHS, Dr Frank Nyonator said there was the need to take advantage of the full range of flexibilities that were legally permitted to ensure that laws, policies and regulations favoured public health and stimulated growth of the local pharmaceutical industry.
He commended the management of the Food and Drugs Board (FDB) for ensuring a well-functioning pharmaceutical regulatory system which had shown evidence of commitment by local manufacturers to achieve international Good Manufacturing Practice (GMP) standards.
Dr Nyonator said the large existence of multitudes of unqualified intermediaries and peddlers without adequate supervision and control in the distribution and retail trade, posed a threat to the industry's supply chain security.
The integrity of the supply chain is also seriously jeopardised by the existence of illegal counterfeit drugs which are mostly imported illegally into the country," he said.
Dr Nyonator who is also the Project Director of Ghana Project on the Trade-Related Aspects of Intellectual Property Rights (TRIPS)-Public Health, a research initiated in June 2007,
proposed that technical assistance should be sort for re-drafting the national legislation and writing the regulations.
He said some recommendations had been made to enhance access to medicines and these included: ensuring that regulatory approval of medicines were treated as purely scientific matters with patent status having no influence on the decision on whether or not to approve a generic drug.
Dr Nyonator said the identification of the origin of genetic resources collected in the territory of Ghana should be incorporated into the Patent Act as an obligation with non-compliance being a ground to file an opposition and revocation or refusal being a possible outcome.