Annan in tearful reunion with cousin in Khartoum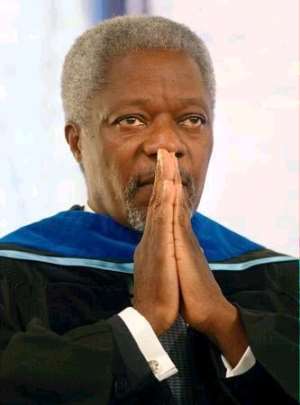 There were tears of joy in the eyes of UN Secretary General Kofi Annan as he hugged a long-lost cousin who turned up unannounced at his hotel in the Sudanese capital.
Annan was relaxing in his Hilton Hotel suite after a busy day of talks with the government on relief aid to the warn-torn south of the country, when the phone rang.
It was his assistant downstairs, telling him that a stranger had arrived wanting to see him.
"Sir, the man claims that he is your cousin, and insists on seeing you. May I let him in?" asked the assistant.
To Annan's astonishment, the man turned out to be his cousin Issa, whom he had not seen for 30 years.
An official of the UN Office in Khartoum, who witnessed the reunion earlier this week, described the meeting between the two cousins as "a very hot reception."
Annan, born in Ghana, spent more than an hour talking to his cousin, reminiscing over their youth and catching up on the lost years.
They were conversing in their local dialect, Ashanti.
The UN official told Sharjah-based Arabic daily Al Khaleej that Issa, who worked as a chauffeur for the late President Nkrumah of Ghana, left his home country for Sudan in 1975, where he has been living ever since. He is married to a Sudanese and has seven children.
He now works as a wholesaler in the markets of the South.
He decided to return to his country after Annan persuaded him to do so.
"Issa looked very delighted after he spent an hour speaking to his cousin - 'the president of the world' as he preferred to call him," said the official.