NPP national chairman to appear in court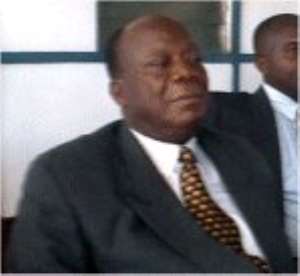 The National Chairman of the New Patriotic Party (NPP), Mr. Haruna Esseku is to appear before the Cape Coast High Court on wednesday for hearing in a matter in which he is being charged for contempt. Mr. Esseku, who is to stand trial with others, is alleged to have used illegal means to acquire a CD Form from the Central Regional House of Chiefs with which he was able to illegally install a rival chief at Senya Bereku in the Awutu-Efutu-Senya District of the Central Region. The case of contempt was filed by the substantive late chief of Senya Bereku, Nenyi Kobena Andakwei. "The Independent' newspaper has learnt that there has been a protracted chieftaincy dispute at Senya Bereku, which has divided the citizens into two opposing factions one of which is led by Haruna Esseku. The case was first heard at the instance of the late Chief at the Central Regional House of Chiefs but the Esseku faction is alleged to have managed to secure a favourable ruling. However the late Nenyi Andakwei filed an appeal at the National House of Chiefs in Kumasi.
Information available to "The Independent" indicates that while the appeal was pending, the Esseku-led faction asked the Registrar of the Senya Bereku Traditional Council to convene a meeting, which, according to the Chieftaincy Act, is a clear breach of the rules, as an appeal to set aside that ruling had then been filed against the ruling by the Regional House of Chiefs.
It is against this background that supporters of the late Chief filed a writ of contempt at the Cape Coast high Court for which NPP Chairman, Haruna Esseku has been summoned.