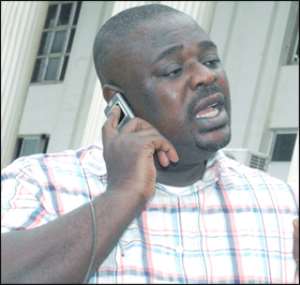 Koku Anyidoho
KOKU ANYIDOHO, President John Evans Atta Mills' Director of Communications at the Osu Castle, has downrightly stated that he hates ex-President Kufuor more than any other person in the country.
Taking his battle of attrition to the former President, Koku noted that he did not only hate ex-President Kufuor, but got irritated whenever he saw his face even in the media.
"I don't like his face, so I don't want to hear anything about him," he said in an interview he granted Focus Radio, a Ghanaian radio station in London, which was played on Angel Fm in Kumasi yesterday morning.
Firing more salvos at ex-President Kufuor, the Director of President Mills' Communications stated that the 70-year-old ex-President was the worst President to have ever ruled the country.
Mr. Anyidoho stated that there was no denying the fact that President Kufuor was the country's most wicked President of all time.
He contended that President Kufuor did not only destroy the country in his eight years in office, but looted the nation's coffers and bought personal properties all over the country.
"Who does not know ex-President looted the nation's coffers and gave the money to his son to buy a hotel and his daughter to buy a shopping mall in Accra?" Mr. Anyidoho stated.
When asked why the government had not initiated any legal action against the former President and his children if indeed they fell foul of the law, he noted that the government was working around the clock to find implicating evidence before heading for the courts.
"In matters of this nature, you can't head for the courts without getting substantive evidence, so the government is working hard in that direction," Koku stressed.
In the said controversial interview, the Director of Communications for President Mills also took the battle to Dr Ekwow Spio-Garbrah, former Education and Communications Minister in ex-President Jerry John Rawlings regime, describing his doctorate degree as cheap.
Mr. Anyidoho pointed out that the country's former Ambassador to the United States (US) never sat in any classroom to pursue his PhD degree, and neither had he written any doctoral thesis to qualify him for the title 'Dr'.
He contended that it was a small university in the US which decided to honour the one-time presidential hopeful of the ruling National Democratic Congress (NDC) with the doctorate title.
Further expressing open hatred for Dr Spio-Garbrah, Mr. Anyidoho vowed to personally ensure that the Chief Executive Officer (CEO) of the Commonwealth Telecommunications Organization (CTO), based in London, did not become successful in any position he would vie for in the party.
"I learnt that he has shown interest in contesting our general secretaryship position; if that is the case, then I'm warning him to have a change of mind because if he dares come forward to contest Johnson Asiedu Nketia, I'll make sure that he doesn't even get one vote in the elections," he boasted.
In a related development, Maxwell Kofi Jumah, former deputy Local Government Minister, has also thrown hard punches at President Atta Mills, saying he must have indirectly benefited from the Mabey & Johnson bribery scandal.
He therefore called on the President to wash his hands from on-going investigations.
Speaking on Citi Fm yesterday, Jumah said the M & J report indicated that there could be many more beneficiaries in the National Democratic Congress (NDC), adding that since President Mills was the head of the Economic Management Team and later presidential candidate at the time of the bribery, he could have been an indirect beneficiary.
But in a sharp rebuttal, Mahama Ayariga, Presidential Spokesperson, said the issues raised did not make sense to Ghanaians, and therefore needed no debate. He said they were too far-fetched to provoke any meaningful debate.
From Morgan Owusu, Kumasi