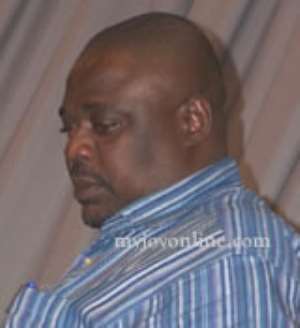 The Head of Communications at the seat of government, Mr. Koku Anyidohu, has exposed the level of bitterness at the seat of the government against Dr. Ekwow Spio Garbrah, a leading member of the ruling National Democratic Congress (NDC.
He accused Dr Spio-Garbrah of betraying president Mills who reposed confidence him. He was not happy that the former Communications Minister raised issues about the president's health.
"Spio my foot! Spio with the cheap PHD! Who is he and what is he saying?" Mr. Anyidohu asked.
He was speaking on a London radio station in reaction to recent concerns Dr. Spio-Garbrah had expressed with regard to the direction of the NDC government.
Dr. Spio Garbrah, who contested President Mills for the flagbearership of the NDC in 2006, has been saying that Professor Mills has fielded a 'Team B' and left out 'Team A', a sentiment that makes Mr. Anyidoho extremely angry.
Mr. Anyidohu said that he had heard that Dr. Spio Garbrah was contemplating coming down to contest for the post of the General Secretary of the NDC against Mr. Johnson Aseidu Nketiah, popularly known as General Mosquito. "If he dares he would be disgraced and he would not secure even a single vote!" Mr. Anyidohu said.
He wondered where Spio-Garbrah was when the likes of Fiifi Kwetey, the Ahwoi brothers, Alex Segbefia and himself left their jobs to follow Professor Atta Mills on campaign. "Spio should ask himself where he was. He was hiding in London going about doing his job, and so if the 'Team B' people had followed the man to do the campaign, they are the right people to work with Mills," he said.


Source: Daily Searchlight