Birth of African Union has vindicated Nkrumah - Blay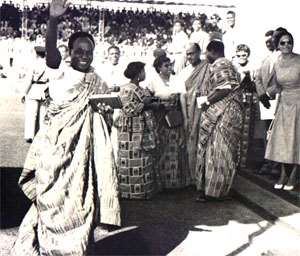 Mr Freddy Blay, First Deputy Speaker, on Tuesday said the final acceptance of the concept of African Union by Africans has vindicated Dr Kwame Nkrumah, Ghana's Founder and leading proponent of the concept.
"I am excited that the African Union has been born. Though it came late, it is better late that never. Osagyefo has been vindicated. The idea he nurtured has bore fruits today."
Mr Blay, the only Convention People's Party (CPP) Member of Parliament, told the Ghana News Agency (GNA) in an interview that," when many were pessimistic, Dr Nkrumah was optimistic, when they said it was impossible for Africa to be one, he believed it was possible and he bore that belief until he died."
He said, "may be he lived before his time but his beliefs transcends his time. May be, he could not take the people along with him, since it is difficult taking along with you people when they are not ready for your message." The First Deputy Speaker said the out-dooring of the Union on Tuesday did not come as a surprise.
"I am a disciple of the Greater Africa and not new convent. If some though that what has happened was a miracle, I would say it is bound to happen. My Faith has been buoyed" Mr. Blay said Africa has no other option that to be united to fight the many problems hindering its growth.
He cautioned against unrealistic expectations from the Union, adding that, "this Union would not make Africa a superpower overnight. This generation may not see that glorious day but with hard work and dedication we as a people would see that day."
He called for the intensification of the struggle against privilege and injustice. "Africans are still poor and we can not afford to see our kith and kin reduced to sub-humans." On his personal political agenda, he said he believed in the welfare system, adding, "I believe that whatever we do as politicians, the ordinary person must come first."