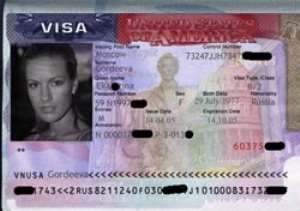 Some participants of the American Visa Lottery are expressing doubts over the manner the American Embassy in Accra is dealing with them.
According to them the embassy is all out to deny some of them the chance of traveling to the United States of America (USA) without any tangible reason.
The Enquirer is reliably informed that some of the participants have planned to stage a demonstration at the Embassy building at Cantonments in Accra on Monday.
"We have paid $775 as visa fee and that money is quite heavy and now we are not hearing anything positive from the Embassy," one of them said.
Apart from that, the group told The Enquirer that they had to spend another $300 on medical examination.
"We had to pay money for police report clearing us of any criminal records," they told The Enquirer.
According to them, Embassy officials are now trying to use DS230 part one and two of the form to disqualify some of them.
That part of the form requires that the applicant should under affidavit provide the addresses of the person who supports him or her.
The motive is that winners of the lottery would not have the necessary documents while in the United States unless after one month.
Advertisement
Again, the applicant should provide the address of the person to stay with while in the United States.
The argument of the embassy, according to the group, is that they provided different addresses and that is why they are being disqualified.
They, however, told Thy Enquirer that it is possible to have two or more people accommodating a person and another supporting that person.
"Are the Embassy officials trying to tell us that we do not know how to provide information?
"We think that there is ,something fishy somewhere and that must be addressed in earnest for them to do the right thing" they said.
They, therefore, called on the Minister of Foreign Affairs Alhaji Mohammed Mumuni to intervene to ensure that they are given the right deal.
"We are appealing to the government through the Foreign Affairs Minister to help us solve the issue," they said,