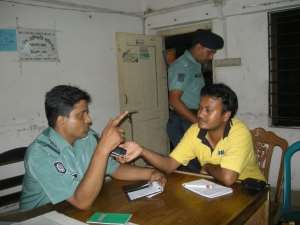 Police officer Wahid being interviewed by the author about the murder of Swopon Mondol. (PhotoDipal Barua)
A Baptist youth minister and evangelist of the Free Christian Churches of Bangladesh was found seriously wounded in Dhaka, the capital city of Bangladesh, on Dhaka University's campus, in the evening of Sept. 12, 2009.
Free Christian Churches of Bangladesh has been active for 25 years and has 320 churches and 30,500 members. The church has faced severe problems during the second Iraq War, and, at various times, evangelists were persecuted.
Police Sub-inspector Mohammed Wahid, of the Sahabag police station, said, "On Sept. 12, at around 8 p.m., I got a message that an unidentified man was found seriously wounded outside of Suhrawardi Park. I rushed to the scene and found the wounded man, and immediately took him to the Dhaka Medical College Hospital. Meanwhile, we came to learn from him that his name is Swopon Mondol and that he is a worker of Free Christian Churches of Bangladesh. His wife, Lucky Mondol, came to the hospital when she was informed about the incident. I left him at the hospital for treatment since his wife was there. Later, I came to know that Mondol died at 12:10 p.m., meaning in the early hours of Sept. 13.
"From local people, I came to know that Swopon Mondol and three or four people with him ran after some Dhaka University students over the issue of a theft. One of the students ran to the nearby campus and brought more students, who then beat Mondol brutally, until he fell down onto the floor."
Lucky Mondol, the wife of the dead Christian evangelist, said, "My only son, Diptoo (age 10), and I rushed to the hospital. Some youth came to the hospital and wanted money, threatening me. My husband was fighting for his life, and this group of violent youths were threatening me and demanding 1400 taka, saying that my husband stole one of their mobile phones. I found myself helpless. I prayed for my husband.
"I am afraid to file a police report. Who will guarantee my safety and give me money to pay for the case? I don't doubt that the violent people who beat my husband brutally and even came to the hospital afterward might kill me if I file a police report. And now it's a challenge for me and my son Diptoo to even survive, because my husband was the only earning member of our family."
Sulekha Mondol, Mondol's sister, said, "We are so poor, and we are in the minority. My brother Swopon was very pious and very patient. He preached the good news of Christ, yet such a good man was killed like an animal. Now we are afraid, and we don't feel safe. Many Christian evangelists have been killed, and no one has gotten justice. On Sept. 13, we buried my brother in fear and hoping for justice in our village. We could hardly arrange for the money to bury my brother and transport his body from the hospital to our village in Khulna."
Bishop Albert P. Mirdha of Free Christian Churches of Bangladesh said, "Swopon Mondol was really a very active church worker over the last 14 years, and we are all shocked by his murder. Minorities are not safe in Bangladesh."
Human rights activist Annie Halder said, "According to Art. 5 of the Universal Declaration of Human Rights, 'no one shall be subjected to torture or to cruel, inhuman or degrading treatment or punishment,' and, according to Art. 3, 'everyone has the right to life, liberty and security of person.' Here, we have seen that there is no security of life and that the Christian evangelist was tortured like an animal."
Inspector Wahid said, "I have been working for the police for a long time, and when I saw Mondol, he looked like a simple and gentle man. I can't imagine that he would steal anyone's mobile phone. Recently, at Dhaka University, some violent students have been harassing innocent people, and, in this case, a gentle man was brutally tortured and killed. A source has told us that the group of students were from Mohasin Hall and were led by Mohammed Rajan."
Bangladesh / Ghana / Africa / Modernghana.com