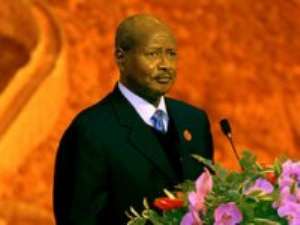 Uganda's President Yoweri Museveni has ordered that all radio talk shows, commonly known as bimeeza, should be off the air and the immediate arrest of propagandists who have been using them as a platform to destabilize the country's peace.
The president gave the directive Wednesday morning in Nateete, Rubaga Division in Kampala during an impromptu tour of Nateete Police Post that was burnt down during last week's riots.
AfricaNews reporter said property worth millions was vandalized and business came to a standstill during a riot that was sparked off by police refusal of an influential local chief to travel to Kayunga district for security reasons last week.
Museveni said whereas news media are important for information flow, journalists needed to be responsible and objective in their work. He, however, said some journalists, who operate unprofessionally by telling lies and were not controlled, could easily cause problems at the expense of innocent citizens.
"News and information is good, but when journalists tell lies and cause a crisis, they will be dealt with according to the law. We are not joking anymore, people must respect the rule of law and also be law abiding," he said.
President Museveni conveyed his sympathies and condolences to Ugandans who lost loved ones and property during the riots. He ordered for the immediate arrest of the Democratic Party (DP's) spokesperson, Ms. Betty Nambooze and colleagues, whom residents reported as having fuelled the whole chaos through their various programs on CBS radio.
"We shall arrest them, but right now they are in hiding but we shall get them. We have also banned Bimeeza hence forth," he said.
The Police Commander of Nateete Police Post, ASP Wasiima Lauben, who briefed the President about the violence instigated by some rogues using petrol bombs said they had identified and made arrests of the ringleaders of the riots and the owners of the garage that supplied fuel.
The President said it was regrettable that the police delayed in taking action but pledged to strengthen the Police Force by equipping it with mobile police patrol vehicles to enable them access affected areas easily and timely. He also said government would build a new police post at Nateete.