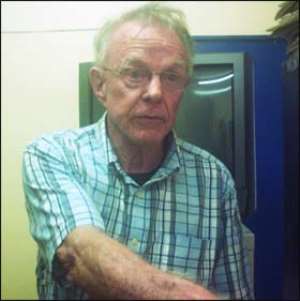 James Kellim
Joe Aboagye Debrah of 1st Law Legal Practitioners, counsel for the retired American Two Star General of the United States Air Force, , has said that the attempt by the Police Intelligence Professional Standards (PIPS) Unit of the Ghana Police Service to portray his client as a criminal was a ploy to truncate a criminal case pending against a Ghanaian hotel operator, Patience Boateng.
The lady, who is believed to be in her mid-40s, is alleged to have taken advantage of the friendliness of the General to steal various sums of money amounting to $57,000 from his accounts with his visa card which Kellim gave her while he was in Ghana for a visit.
The General was therefore released unconditionally on the very day he was arrested- September 15, 2009.
Following his arrest and subsequent publications in DAILY GUIDE and other print and electronic media, the counsel for Kellim, Joe Aboagye Debrah, has also petitioned the Inspector General of Police (IGP), Paul Tawiah Quaye to order investigations into the conduct of the Head of PIPS, ACP Timothy Ashley.
The lawyer sought to find out why ACP Ashley was in such a rush to get the story published by journalists and also why his client was denied access to his lawyers by ACP Ashley.
He also wanted answers as to how and why the ladies involved in the matter were released as soon as his client was arrested?
The lawyer urged the IGP to also find out what relationship existed between ACP Ashley and Madam Patience Boateng, the suspect in the substantive matter, who cannot be traced by the Police.
"What offence under the Criminal Code, 1960 (Act 29) as amended, did our client commit?" he questioned.
Giving a background to the case which had prominent banner headlines, lawyer Debrah wrote, "We are instructed that our client had filed a complaint of stealing at the CID Headquarters against a Ghanaian lady named Patience Boateng involving approximately fifty thousand United States dollars (US$50,000). 
Our client filed his compliant on August 13, 2009. When the suspect was bailed, she petitioned PIPS that she had been detained for more than 48 hours by the Police officers. Strangely, the same ACP Ashley then attempted to halt the entire investigation of the substantive matter.
It took a petition from the then counsel of our client and the intervention of both the legal department of the Ghana Police Service and the Director, CID, to ensure that the investigation was not truncated."
The counsel observed that having failed in that effort, "we find it extremely unusual that the same officer and men under his command could storm a hotel room and arrest our client on clearly trumped up charges which have no foundation in fact or in law."
In a letter to DAILY GUIDE, Joe Debrah suggested that his client as well as newsmen that covered the story were set up and demanded an unqualified apology on behalf of his client.  
"Our client was set up and the journalists concerned were also set up by the named officers for a defined purpose, i.e. prevent our client's case which was being processed for court on Friday, September 18, 2009 from proceeding to trial by instigating a deportation or harassment warranting a flight out of the country."
It would be recalled that was alleged to have videotaped Ghanaian ladies whilst having sex with them for a fee of GH¢500.
The 72-year-old American was said to have also offered the ladies phallic vibrators to inset in their vaginas, asking the ladies to meow like cats whilst he filmed them on a video camera allegedly for phonographic purposes.
Meanwhile a police source has told DAILY GUIDE that James was not arrested in his hotel room but at another hotel where the two ladies lodged and invited him to join them.
James is reported to have had a call from one of the women who gave her name as Joyce and introduced herself as a boutique owner.
She then sought to seek James' assistance to import vibrators into the country for sale.
The lady then invited him to a hotel to show her samples and to demonstrate how to use the vibrators which James obliged to do.
He got to the hotel through the assistance of a cabbie driver who was directed by the lady. When he got to the room of the lady, he allegedly met two naked ladies who requested he filmed them while teaching them how to use the vibrators so they could show their clients how the vibrators are used.
James later realised he had been set up when the police surfaced a few minutes later and arrested him.
By Rocklyn Antonio