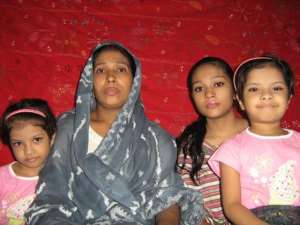 The persecuted christian Convert's family members Ms. Khainur Islam
Dhaka (Modernghana.com) --- by William Gomes
Ms. Khainur Islam, a Muslim women in central Dhaka said to Modernghana.com that my son Md. Jahirul Islam has converted to Christianity. As the news of his conversion reached to my husband Md. Aminul Islam, he starts torturing me.
My son Md. Jahirul Islam lives at Sydney in Australia. He went there for higher study in year 2006. He never shared with us about his conversion to Christianity in when he was Bangladesh said Khainur
On 18th June 2009 my son shared the fact with me. I remembered the date exactly to hear about his conversion to Christianity from him and I get shocked said Khainur
My husband who works in Saudi Arabia for last 22 years comes back to Bangladesh for vacation in the month of June 2008 and he was pushing my son to marry a Muslim girl and before marry my son should go to Hajj in Saudi Arabia, my son shared with me that its is fully impossible for him to go for hajj or marry any Muslim girl, as he is a Christian, said Khainur
When my husband was pushing me hard to bring my son back in Bangladesh , I shared with my husband about the conversion of my son to Christianity on 20th December 2009, my husband get mad to know about the fact and start beating me as he hear the news, and said I am responsible for his conversion to Christianity because I allowed my son to study in Christina college named "Notre Dame College, run by roman catholic church , said Khainur
My husband frequently tortured me after the event and forced me not to communicate with my son Md. Jahirul Islam; he said to stop supporting my son for his higher study.
I share the torture story with my son. I questioned him the reason behind his conversion to Christianity. My son suggest me to be in contact with the Pastor Alex Khan, who had baptized him to Christianity, I shared the torture story with pastor Alex khan and I came to know about the Christ and his love, after that I start reading that the bible with the help of pastor with my daughter Arifa Sultan said Khainur
Recently my husband Md. Aminul Islam who leaved us came back to our home on 5th of September 2009, I shared with my husband that I myself now believes in Christ and will convert to Christianity, he bind tightly me and roughly beat me and beat my daughter Arifa Sultan before my two small twin daughter Sumai and Sayma said Khainur
My husband Md. Aminul Islam took the bible that was in our room that we get from Pastor Alex khan, he burned the bible before us, and said If you don't come back to Islam I will burn you, your daughter Arifa and son Jahirul like this bible said Khainur
We are in fear to be killed and we cannot share these relatives for help because they are all Muslims and the police are also Muslims.
Arifa Sultan daughter of Khainur said that know I read the bible everyday, I get a new bible from pastor Alex khan, we regularly pray, I pray that my father will one day fell the love of Christ . I forgive my father as he beat me like dog, only for belief in Christ, I don't fear to be burned like the bible my father burned, for my belief in Christ
Bangladesh / Ghana / Africa