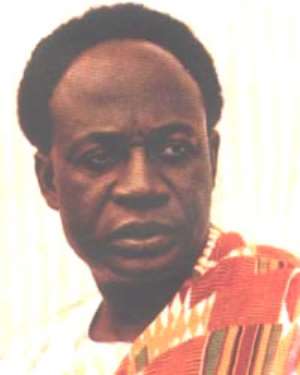 Osagyefo Dr Kwame Nkrumah's birthday falls on September 21

President John Evans Atta Mills on Thursday declared September 21, a statutory public holiday in Ghana, to immortalise the country's founder, Osagyefo Dr Kwame Nkrumah, whose birthday falls on that day.
Exercising the powers conferred on him by the 1992 Constitution, the President made the declaration under Executive Instrument (EI), to take effect this year, which marks the centenary of Dr Nkrumah's birthday.
The Communications Director at the Presidency, Mr Koku Anyidoho, told the Daily Graphic at the Castle in Accra that the declaration of the day as a public holiday was in line with the President's pledge in his recent State of the Nation address to Parliament to declare September 21, the birthday of Dr Nkrumah, as a statutory public holiday.
He said the declaration was also an indication that the government was not paying lip-service to the celebration but was committed to making the day not only successful but also memorable.
Dr Nkrumah was the motivating force behind the independence of Ghana from British rule in 1957 and became the first president of the country.
President Mills, in his State of the Nation address on Thursday, February 20,
2009 acknowledged the significant role of the first President, Osagyefo Dr Kwame Nkrumah, in the attainment of independence for the country.
He described him as an "illustrious founder of our nation", stressing that "his selfless leadership serves as a point of reference in our determination to build a better Ghana".
"Incidentally, this year marks the 100th anniversary of Dr Nkrumah's birth and as a country, we should commemorate the event in an appropriate and befitting manner," President Mills said.
The President then declared saying "among others, we intend to honour Dr Nkrumah's memory with a national holiday to" be known as Founder's Day".
At the end of its 13th Ordinary Summit in the Libyan town of Sirte, the African Union (AU) also adopted the centenary birthday celebration of the founder and first President of the Republic of Ghana, Osagyefo Dr Kwame Nkrumah, as a continental event.
In a resolution adopted at the end of the summit, the African leaders stated that "we unanimously agreed to celebrate Dr Nkrumah's centenary birthday and put it on the AU's calendar of Special Events".
President Mills used the opportunity offered by the summit to invite his counterparts in Africa to join Ghana in marking the centenary of Dr Nkrumah, "whose pioneering role in the formation of the Organisation of African Unity (OAU) is unmatched".
To ensure the success of the celebration, the President appointed the Kwame Nkrumah Centenary Planning Committee chaired by Professor Akilakpa Sawyer and was inaugurated on June 2, 2009 by the Vice-President, Mr John Mahma.