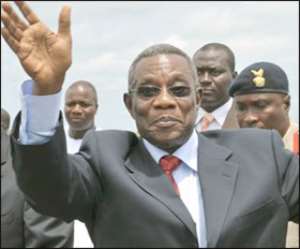 BY KELVIN ADU-TWUM PEPRAH
First Deputy Speaker and National Democratic Congress (NDC) Member of Parliament for Ave-Avenor, Hon Edward Doe Adjaho, has appealed to Ghanaians not to lose confidence in the Mills administration.
He added that the President will not renege on his promises and therefore urged Ghanaians to have patience.
"I will therefore urge you to keep faith in the President and his government because I believe that given the modesty of his leadership, coupled with his honesty and humility, he shall deliver even in the face of these challenges," urged Hon Doe Adjaho.
According to him, although the NDC government's efforts to fix the numerous social and economic problems facing the nation "appear to be rather slow," he noted that he was optimistic that the current administration "is more than up to the task of effectively turning Ghana`s economic fortunes around."
The Ave-Avenor MP was speaking at the Ordinary Session of the Akatsi District Assembly. He said things would have been different had the NPP administration left Ghana`s economy in a good shape.
In his opinion, the NDC Government inherited "a very weak economy" with rising inflation and a depreciating cedi, but moved in "swiftly" to raise some loan facilities from the World Bank and the IMF, to support the budget and also to stabilize the macroeconomic environment.
"I am raising these matters not as an alibi or an excuse but to inform you as the representatives of our people in the District and to let you know why things appear to be slow," he stated.
Advertisement
Hon. Adjaho announced that a number of developmental projects are to take off within the next few days to better the lot of the people in the Akatsi District.
For instance, he said the Ministry of Energy is working assiduously to complete the phase two of a $170 million dollar China Water Electrification Program to be executed by the China Water and Electricity Corporation in the District.
He disclosed to the Assembly members that he was in consultation with the Ministry of Health to build a befitting district hospital in the district capital, Akatsi, adding that "as at now we all know that the district hospital can only be identified by its signboard and not the facility."
Continuing, the First Deputy Speaker intimated that he will set up an Independent Committee to scrutinize applications of needy but brilliant students who apply to his office for assistance.
"This would not only be for transparency sake, but also ensure that only brilliant and actually needy students receive support," he stressed.
He added that special consideration would be given to girl-child education.
Originating at www.theghanaianjournal.com