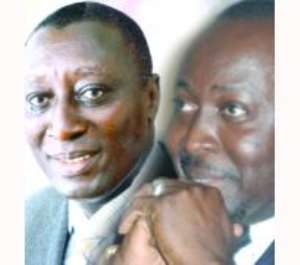 BY KELVIN ADU-TWUM PEPRAH
The newly elected NPP member for Akwatia, Dr. Kofi Asare, has made clear his desire to hold unto the seat for a long period of time.
His reaction comes in the wake of statements made by the NDC that it would have won the Akwatia seat had the election been carried across the entire constituency given the party's performance in the re-run in just six polling stations.
Dr Asare said he needed only 800 or more to win seat and therefore did not require so much campaigning.
"Our target as a team worked as we needed just a little top-up to reach the ultimate," Dr Asare noted
The Akwatia Legislator was speaking to TODAY in an exclusive interview in Accra recently.
He refuted allegations that his party was the main architect behind the pre-violence to the re-run, and urged the security agencies to conduct thorough investigations and bring to book those who were involved.
"Much as I agree that Akwatia needs the efforts of all to make the place a unique one, I will use this medium to state clearly that the violence which occurred in the build up to the re-run did not emanate from NPP supporters," stressed Dr Asare.
Dr Asare called on religious bodies in Akwatia to ensure that they educate their members to refrain from practices that will disturb the peace in the constituency and set the clock of development in the area backwards.
He also discounted the false the impression by some that he did not have the interest of the Muslim community.
"This is an attempt by some faceless people to make me unpopular within the Muslim community, he indicated.
According to him, Akwatia abounds in so many natural resources which when well harnessed could be used to improve the welfare of the constituents, many of whom are farmers.
He gave the assurance that his office will not relent in its efforts to assist the youth in the constituency to enable them have meaningful lives.
"As part of what I will do to empower the youth in the constituency, I will ensure that most of them channel their energies into agriculture, and ensure that they also go to school,'' he disclosed.
Dr Asare maiantained that his immediate objective is to mend the acrimony within supporters of the NDC and NPP to bring about unity of purpose needed to move the constuituency forward.
Originating at www.theghanaianjournal.com