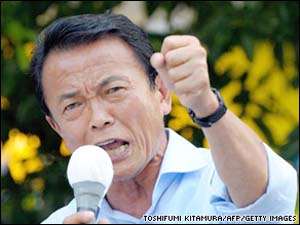 Japan's opposition leader Yukio Hatoyama has hailed an election "revolution", with exit polls suggesting a massive win for his party.
The Democratic Party of Japan (DPJ) won 300 seats in the 480-seat lower house, ending 50 years of almost unbroken rule by the LDP, NHK TV predicted.
Mr Hatoyama, 62, said people were "fed up" with the governing party.
Prime Minister said he took responsibility for the defeat and would resign as head of the LDP.
Japan is suffering record unemployment and its economy is struggling to emerge from a bruising recession.
The DPJ has said it will shift the focus of government from supporting corporations to helping consumers and workers.
The White House has already said it hopes to forge a "strong alliance" with the incoming government.
'Close partnership'
Mr Hatoyama, who is almost certain to lead the next government, is the wealthy grandson of the founder of Bridgestone tyres. His other grandfather was a former LDP prime minister.
He said after polls closed: "We will not be arrogant and we will listen to the people.
"The people are angry with politics now and the ruling coalition. We felt a great sense of people wanting change."
Mr Hatoyama, who is expected to announce a transition team on Monday, has promised to boost welfare and reform the bureaucracy.
He also vowed on Sunday to strive to resolve a long-standing territorial feud with Russia.
The White House called the election "historic", adding: "We are confident that the strong US-Japan alliance and the close partnership between our two countries will continue to flourish." BBC