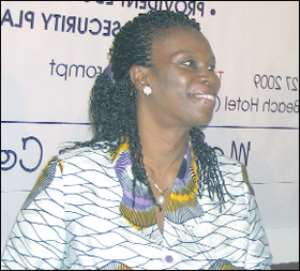 The gross premium income of the insurance market in 2008 stood at GH¢276,494,733, representing 36 percent increase over the previous year's figure.
The total market capitalization and the assets of the industry during the same year was GH¢180,256,182 and GH¢477,388,079 respectively.
Total life premium, on the other hand, stood at GH¢89, 243,821, bringing its market share to 32.2 per cent and placing it second to motor.
The afore-mentioned figures were disclosed by the Commissioner of National Insurance Commission (NIC), Ms , when delivering a keynote address at the launch of three products of Provident Life Assurance Company Limited in Accra last week.
She said inspite of the successes chalked in life business, a lot more could be done to accelerate its growth.
Ms Amoah stated that the insurance market needs more innovative products and advised life insurers to stay away from complex financial products.
"As much as possible, insurance products should be kept simple.  Simple products are easier for policyholders to understand and the risks involved are also better understood by the insurers themselves and therefore better managed," the NIC Boss explained.
Ms Amoah suggested that one such product that life insurers must consider is micro-insurance. She believes through micro-insurance, the industry would be able to reach the low income sector of the population which has hitherto not been targeted by insurers.
"If the products are packaged in such a way as to make the premiums affordable, and if the contract wordings are made brief, easily understandable and with few exclusions, they will have a greater appeal to the low income and rural households," she noted.
The NIC Boss said micro-insurance could be viable if insurance companies focus on keeping their costs low, use convenient and well trusted delivery channels and establish links with financial institutions which have wider distribution networks.
Ms Amoah said her outfit is working in collaboration with German Technical Corporation (GTZ) on a number of initiatives which will create an enabling environment for micro-insurance business to thrive in the country.
By Felix Dela Klutse