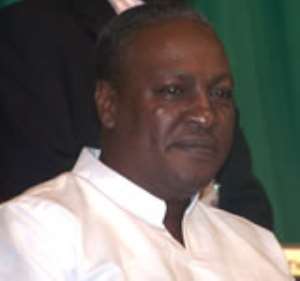 The Vice President, John Dramani Mahama left Accra for Tripoli yesterday, to attend a special African Union (AU) Summit of Heads of State and government delegates, which would be held from 30th August 2009 to 3rd September 2009.
A statement issued in Accra yesterday and signed by John Abdulai Jinapor, the spokesperson said: "The Vice President, who is accompanied by the Minister of Foreign Affairs and Regional Integration, Alhaji Mohammed Mumuni, would represent President John Evans Atta Mills."
The Summit, which is at the instance of the AU chairman and Libyan leader, Moammar Gadhafi, is scheduled to discuss conflict resolutions on the African continent; an idea which was floated at the last AU Summit held in Sirte, Libya about two months ago.
The African leaders endorsed a proposal to hold a special session on conflict resolutions in Africa; with Tripoli being chosen as the city to host the special meeting.
The Summit agenda, according to the statement, would touch on three major conflict hotspots on the African continent including Darfur, Somalia and the Great Lakes region.
It would also feature various meetings which are expected to promote trade on the continent.
The special Summit would coincide with the celebration of the 40th anniversary of the Great Socialist People's Libyan Arab Jamahiriya, which brought Moammar Gadhaf to power in 1969.