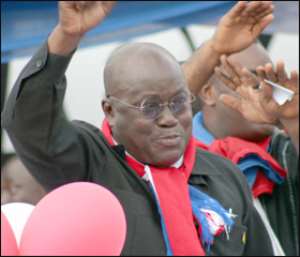 The 2008 flag bearer of the New Patriotic Party (NPP), Nana Addo Dankwa Akufo-Addo, has congratulated the national, regional and constituency officers of the party for what he described as a successful extraordinary conference held recently at the Trade Fair Site, Accra.
"The National, regional and constituency officers of the New Patriotic Party (NPP), led by the National Chairman of the Party, Peter Mac Manu, are to be congratulated on the organization of a successful extraordinary conference," he stated in a press statement.
For those who hoped for the break-up of the party prior to the activity, he noted in his statement that such cynics have been confounded by the conduct and outcome of the conference which as he put it, strengthened the coherence and image of the NPP.
"The democratic credentials of the party, which have made it the toast of our nation and indeed all of Africa, have been reinforced by the events of the conference," he observed.
That the conference endorsed the will of the overwhelming majority of the membership to have a greater say and participation in the running of the party, he noted, "is a significant development that will stand us in good stead for the future."
Now is the time, he said, for all, irrespective of whether they supported the amendment of the party constitution or not, to rally together to ensure their successful implementation.
Turning to the advice proffered by former President John Agyekum Kufuor at the function on the need to avoid factionalism in the party, he stressed that that this be taken seriously because as he put it "united we stand, divided we fall."
doffed his hat for the 1,400 delegates who came from across the country to grace the occasion which deliberated on the constitutional amendment of the party constitution, adding, "with such a dedicated corps of party faithful, and with hard work, we shall be back in government in 2012 to continue with the process of good governance that we have demonstrated to the people during the first period of NPP rule. No shaking. We shall be back."
By A.R. Gomda