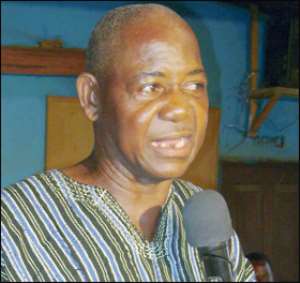 KONKOMBAS AT the Agbogbloshie yam market in Accra have taken strong exception to some media reports which suggested that they were involved in the cold-blooded murder of three persons in the area last Tuesday.
Not mincing words, the people condemned the move, describing it as a cheap journalistic propaganda and further cautioned the media to desist from such 'gutter journalism'.
For them, such dangerous radio or television reportage has the tendency of flaring up passions which could eventually pose serious security threats to the country.
The victims of the bloodbath included Alhassaan Fuseini, M. Suala and J.Y. Sule.
Anthony Tanyam, Public Relations Officer (PRO) of the Konkomba Yam Producers and Marketing Society (KYPMS), who briefed journalists over the weekend, explained that the gory clash at Agbogbloshie did not even take place in the market as speculated but rather very close to the police station opposite Sikkens.
The room was fully packed with aggrieved Konkombas in solidarity to clear the denting image given them.    
Adding, "Nobody of different ethnic background was either attacked or involved and this is why we find it totally incomprehensible that some media organisations and personnel including security apparatus chose to trade in lies by misinforming the general public that it was Konkombas who orchestrated, masterminded and took active part in the brutal actions that day".
"We cannot understand why Peace FM failed to cross check their information before announcing that Konkombas were engaged in a deadly and destructive fight on that day," Mr. Tanyam emphasised.
The press conference, as he put it, was not meant to redeem the image of Konkomba, instead, it was to let the media become aware of the numerous false accusations and gross disrespect certain persons or groups exhibited towards indigenes.
According to him, since its establishment in October 1981, the market had become the main source of food supply to people from all walks of life and also offering employment for over 5,000 people.
Clearing the myth, Mr. Tanyam stated, "The Konkomba market is not a haven for criminals and neither are we engaged in any negative activities", adding that "there is no hostility between us; we see ourselves as brothers".
However, "we shall also not hesitate as a tribe to take legal action against anyone who speaks or writes untruly about us with the intention of ridiculing the tribe," the PRO hinted.
The people further appealed to the security agencies to ensure that a lasting solution was sought to the frequent clashes between adherents of both the National Democratic Congress (NDC) and the New Patriotic Party (NPP) in the Agbogbloshie area.
By Nathaniel Y.Yankson