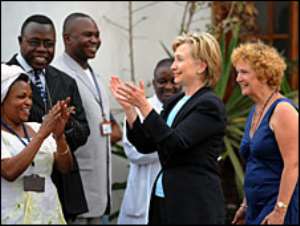 One of the great stories of globalisation has been the steady spread of Chinese business interests across the face of Africa.
China's trade flows with Africa recently overtook those of the United States.
Some observers are concerned about the political leverage that Beijing may now be exerting in the continent, which used to be dominated by former European colonial powers.
But is China's recent investment in Africa really a miracle?
http://www.bbc.co.uk/worldservice/business/2009/08/090827_brightsimonsaudio.shtml
Bright Simons is the director of development research at the African think-tank, IMANI.
He reflects on the future of Africa on the world stage, and the role of the United States and China on the continent.
IMANI is a Ghana based nonprofit, non-government organization dedicated to educating society on the benefits of a free economy and fostering public awareness of important policy issues concerning business, government and civil society.
First broadcast on Business Daily