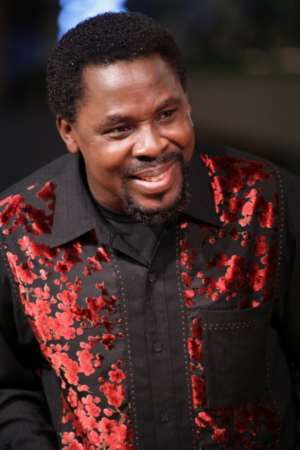 Pastor T.B. Joshua of the Synagogue Church of All Nations, Ikotun, Lagos has donated N200,000 and four bags of rice to a widow who lost her husband and son to religious violence in the North.
The presentation took place in the church.
Narrating how she became a widow unexpectedly at the Synagogue, Sarah Matthew, amidst tears, disclosed how her husband, Matthew, was killed in November 2008 during the Jos crisis. Eight months later, islamic fundamentalists of the Boko Haram sect killed her only son in Maiduguri.
Sarah, a member of the Christ Apostolic Church, who came to seek succour at the Synagogue having heard of Pastor Joshua's generosity narrated: "As at last November, I was residing in Jos, Plateau State with my husband and three children. Suddenly, religious crisis broke out and my husband was slaughtered by the extremists before my eyes. I was forced to relocate to Maiduguri to avoid what happened to my husband in Jos. Fate struck another cruel blow eight months later when my only son and his wife were killed by the Boko Haram extremists. Now, my two daughters are on the streets."
Carrying a small malnourished infant, the only child of her slaughtered son, Sarah's pitiful plea struck a compassionate chord, even in the hardest of hearts.
Moved by her misery, Pastor TB Joshua promptly gave her N200,000 and four bags of rice, with a promise of continued assistance to her family's welfare. TB Joshua, famed nationwide for his humanitarian gestures, passionately called on others to help the less privileged in the society.
"When you have something that others need; and others are sleeping on the street, roaming about and homeless, and you have what they need to live right. That thing you have will become a burden to you because those who need it are suffering and you have them in abundance somewhere. Instead of blessing, it becomes a burden. This is the problem many people are facing today. We have money, but no peace," he said.
Sarah was not the only beneficiary, a Ghanaian student, Benjamin Adeno, also got N120,000 scholarship to facilitate the realisation of his dream - studying Banking and Finance in the University of Legon.
"I'm expected to pay my school fees next week," he recounted. "I was about to give up hope, but I watched Emmanuel TV in Ghana, and I saw the man of God helping many people," he stated.
P.M.News gathered that Benjamin, who borrowed money to come to Nigeria, was so elated that he thanked Pastor Joshua profusely for the gift.
"It is praiseworthy when you give, not only within your power but beyond your power," said the pastor, imploring others to give not only out of their surplus, but also what they cherished most.
He bemoaned the level of waywardness and waste among many privileged people in the society today and called on congregants and viewers worldwide never to forget their humble beginnings. "The Lord wants you to know what it means to be poor. So, when He now raises you to a position of honour, you will begin to remember where you are coming from, and you will feel their pain, their agony," he said.
Originating at thepmnews.com