Hoffenheim exposed over FAKE Tagoe report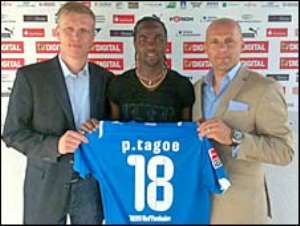 Bundesliga club Hoffenheim used faked documents to get the German Football League (DFL) to acquire Prince Tagoe's playing license, a German newspaper claims.
  The 22-year-old's saga with Hoffenheim has always been dubious and the latest revelation in the Bild has further stretched the credibility of the club.   Hoffenheim's integrity hit a new low after Thursday's revelation in Germany's biggest newspaper that the club's physician Dr. Pieter Beks did not carry out the mandatory heart test on the player.   Yet the club presented documents to the DFL, the league's organiser, to show that all tests were concluded before clearance was issued to allow them to register Tagoe.   "After playing in two World Cup qualifiers in June, Tagoe came to Germany for the Medical examination with Hoffenheim," Tagoe's agent Goran Milovanovic said.   "Tagoe and I were in the medical test carried out by Dr. Pieter Beks. It did not even take 20 minutes. They made no cardiac investigation. "   Hoffenheim cancelled the player's contract last month claiming the player had heart problems but FOUR hearts doctors declared him free from such problems.   Tagoe's contract was reinstated when his agent threatened legal action after being cleared by the doctors, denting the credibility of Hoffenheim.   When pressed on the latest revelation, Jan Schindelmeiser, the club general manager and mastermind of Tagoe's problems refused to comment.   "Tagoe's lawyer, Professor Buchberger, has forbidden us to speak out about the investigations," Schindelmeiser told the Bild.   The DFL has asked for a third independent test in the coming days so that it can restore Tagoe's playing license.   Hoffenheim have reinstated Tagoe's contract with the club after an intervention by the club's billionaire owner.   The club are facing another humiliation as Tagoe is set to play for Ghana in World Cup qualifier next month against Sudan in Accra as he has been invited for the game.   The striker is a key player for the Black Stars and if he plays the game it will further expose Hoffenheim to have lied over his health status.
For more Ghana football news visit www.ghanasoccernet.com