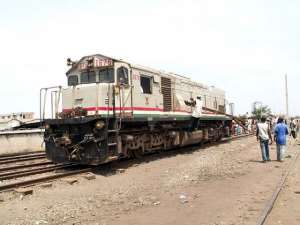 Ghana could be making headway to resuscitate the defunct Railway sector. According AmeraMex International, Inc. they have met with Ghana's president, John Atta Mills, and other government officials to review and finalize the MOU outlining a program to rebuild/replace the country's current rail system.
Ghana, with a 3.5 percent growth rate, is one of the fastest growing countries in Africa and requires a modern transportation system to efficiently move products and people from city to city.
"The entrepreneurial spirit of the people that I met with and their vigorous pace of business impressed me and should have the same effect on companies looking to expand and invest in Ghana," said AmeraMex CEO Lee Hamre.
"We are pleased with the progress made in finalizing a more conclusive MOU for the rail project and believe we will be able to provide an update in the next few weeks."
Advertisement
In a statement to theGhanaianjournal.com he cited that in addition to the transportation project, AmeraMex, along with the CEO of Idaho-based Walker Farms, presented a proposal outlining an innovative technology plan to better feed the people of Ghana.
The proposal not only outlined the equipment required to plant and harvest crops but also provided irrigation designs and natural fertilizers to boost production.
Hamre continued, "We have invited the President and Vice President of Ghana to visit the model 15,000-acre Walker Farm where they can see how wheat, potatoes, corn and barley are grown using the proposed technology to efficiently increase production of locally grown food for the people of Ghana. A formal invitation is being extended to Mr. Mills and Mr. Mahama this week. We believe this proposal will move quickly through the approval process."
President Mills met with President Obama in July at which time President Obama promised to provide West Africa with $3.5 billion to assist in improving farming methodology currently used in Ghana in order to benefit the people of West Africa. A portion of this funding is expected to support the initial phase of the AmeraMex/Walker Farm proposal.