Robbery Gang Leaders Busted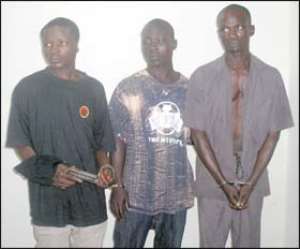 From left: Peter, 28, McFish, 27, and Abayeshika, 40
THE POLICE crackdown on robbers in the country is paying off as three gang leaders involved in various robbery cases including raping their victims, have been nabbed by the Accra Regional Police Command.
Following the arrest of the three robbery gang leaders, including one Godwin Dagadu aka Abayeshika, a cleaner at the Holiday Inn Hotel, at the Airport city in Accra, the Regional Police Commander, DCOP Rose Bio Atingah, has appealed to management of industries and services especially those of the hospitality industry, to ensure they know the background of the persons they employ.
She stated that the police could assist in this direction if such requests were made by the industries.
The police boss said anything short of this could lead to employers employing criminals who could inform their gang members of clients who may be brutally attacked and rid off their possessions.
The forty-year-old suspected armed robber was incarcerated from March 1, 2003 to September 14, 2008.
He has been working with the hotel since January 2009 and was arrested on August 10, 2009 by a team of policemen led by the deputy Regional Police Commander, ACP Christian Tetteh Yohuno, while at work.
According to the Regional Police Commander, Abayeshika was arrested upon a tip-off that he and a colleague ex-convict from the Nsawam Medium Prisons, were planning to rob a house at Awoshie, a suburb of Accra. Reports say he had called the said colleague and invited him over to the Holiday Inn Hotel.
However, the suspected robber argued that he had only invited the ex-convict, who is also a friend, to come and know where he works, adding he had long put a stop to "that nonsense", referring to robbery.  
The police upon another tip-off have arrested one Yakubu Iddrisu Danjuma, 27, aka McFish, who is said to have been involved in a robbery on October 15, 2007 at about 9:00pm at Karldof Restaurant, Tesano, where one Rita Darko who had then returned from abroad had gone with some friends for a get-together.
At about 1:30am, the suspect, in the company of David Awutey Martey, aka Apenaaba, Rashid Yakubu, aka Kawawa, having armed themselves with pistols and cutlasses, attacked Rita and her friends and succeeded in bolting with an amount of £2,000.00, $1,000.00 and GH¢2,000.00 after assaulting them, while Rita's palm was brutally slashed.
On October 20, 2007, all but McFish were arrested and are currently on remand. McFish was however arrested upon a tip-off at Abeka-Lapaz, in his hideout, on Sunday August 9, 2009.
In the third instance, the police, in conjunction with the Ashiaman branch of the GPRTU, were successful in arresting another gang leader, Peter Korku Aziagborlu, 28, at the Ashiaman Lorry Park on Saturday August 8, 2009.
Peter, according to the police, was involved in a robbery at East Legon where a prominent lawyer was robbed, and his wife raped. The said lawyer is said to have died ten days after the horrific encounter with the robbers.
Peter according to the police had confessed to three separate robberies including one at a forex bureau off the Suhum road where he claimed they took only GH¢350.00.
The police boss said they had a tip-off that a gang made up of Takyi, Jack Kay, Koffie and Kobby in whose barbering shop they gathered, behind the Ashiaman Police Station, were planning to rob a house at Kakasunaka near Michelle Camp on Friday August 7, 2009. The police placed surveillance on the said location but the robbers did not hit.
However the police was later informed that the group had changed their plan, and had decided to first snatch an Infinity vehicle from its owner at East Legon, before heading towards Kakasunaka to rob the said house on Saturday August 8, 2009.      
The robbers dispatched in various public vehicles including tro-tros. While the others reportedly joined vehicles moving towards Legon, their leader, Peter, joined a Nima vehicle.
When the police got to the Lorry Park, the others had already started their journey but a delay caused by the driver of the tro-tro in which Peter was, aided the police to arrest him. A search on him revealed a locally manufactured pistol and two rounds of ammunition.
DCOP Atingah has commended the Ashiaman branch of the GPRTU for their cooperation in the fight against crime. She also commended their informants and would-be informants whom she indicated would be rewarded with huge sums of cash.
The police boss indicated that everyone has a stake in the fight against crime, adding the catch word is vigilance.
"We should remain vigilant at our work places, our homes and neighborhood", She advised.
By Rocklyn Antonio