NDC youth activist faults 'leadership' for 'seizures'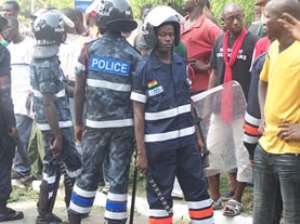 Supporters of the NDC at the Electoral Commission [Library photo]
A youth activist of the ruling National Democratic Congress (NDC) says the leadership has not shown interest in the welfare of those at the grassroots since the party assumed office.
Mohammed Aboagye tells Joy News that the situation has arisen because of additional responsibilities for party executives serving in government.
He said "the way and manner our leadership are behaving now" leaves the grassroots supporters with little hopes "because of what they term as their busy schedule, because of being ministers or other things.
"It is difficult for [them] to even know what to tell the grassroots," Aboagye added.
The distraught youth activist also accused the leadership of the party of scrambling for posts in government.
"I think that it was bad for all our executives to run for positions in government, it was their duty to remain to let people know that we didn't suffer for the party because of position," he told Joy News' Elvis Adjetey.
Aggrieved supporters of the NDC have in recent times been cited for various disturbances around the country.
The latest is incident in Asuogyaman in the Eastern Region where a thug believed to be supporters of the ruling party have threatened workers of the National Health Insurance Scheme (NHIS).
The group threatened bloodshed if the NHIS staff came to work the following working day.
Earlier incidents around the country, including toilet seizures in Cape Coast and Ashaiman, have attracted a barrage of criticism from many a civil society organisation.
Deputy General Secretary, Elvis Afriyie Ankrah who condemns the act tells Joy News that concerns by some party bigwigs about the manner Prof Mill's is steering the affairs of the state is fueling such acts by aggrieved supporters of the party.