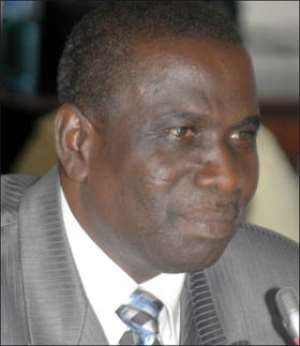 Kwadwo Nyamekye-Marfo
THE BRONG-Ahafo Regional Minister, , has lambasted some of the nurses in the region for politicizing their profession.
He stated an instance when he heard that a nurse did not attend quickly to a patient because of what she termed as "the patient's bad voting", he therefore entreated the nurses to exhibit professionalism in their field because they were the people who saved lives.
The Regional Minister was speaking at the 6th National Delegates, Conference of the General Nurses Group at the Eusbett Hotel in Sunyani.
Mr. Nyamekye-Marfo noted that the Regional Coordinating Council, in collaboration with the Ministry of Justice and Attorney General, would be investigating and possibly prosecute anyone culpable of misappropriating an amount of three million pounds which was meant for the construction of residential accommodation for nurses at the Sunyani Regional Hospital.
He said the nurse's residential accommodation was supposed to be completed alongside the Regional Hospital, but according to him, there was nothing to show for the money which was released by the NDC administration before it left office in 2000.
The Regional Minster went on to say that due to the high demand for nurses at the hospital, there was the need to provide accommodation.
He revealed that the Sunyani Regional Hospital which started work six years ago would be officially commissioned on the 7th November 2009, as part of the celebration of Brong-Ahafo's 50th Anniversary.
The Minister of Health, Dr. George Sipa Yankey, addressing the nurses, also announced that a Ministerial Committee had been set up to assess the conditions of service of nurses and other paramedics for it to be improved.
He said this would motivate the health workers to give off their best.
Speaking on the theme "The Role of the Clinical Nurse in Comprehensive Abortion Care", Dr. Sipa Yankey noted that unsafe abortion was a major cause of maternal deaths in the country.
He said the government had therefore equipped hospitals to undertake safe abortions to save the lives of women who carried unwanted pregnancies. The Minister of Health said the government had demonstrated its commitment to this goal, by prioritizing the construction and renovation of maternity blocks and operation theatres.
The Chief Nursing Officer, George Kumi Kyeremeh, said the Nurses Group would continue to intensify its education on safe abortion.
He used the opportunity to advise parents to open up to their daughters so they could assist them access the services of professionals if they want to abort unwanted pregnancies.
From Vivianna Mensah