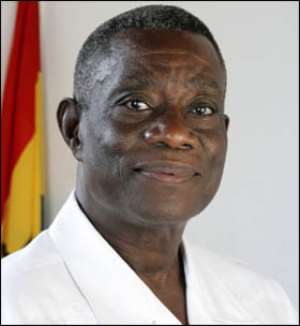 President John Evans Atta Mills
THE BRONG-Ahafo Regional Research Officer of the New Patriotic Party, John Bugri, has lambasted President Atta Mills for using nine motor riders and more than 35 vehicles in his convoy when he had promised during the 2008 campaign to use only three vehicles.
He also slammed the NDC government for using school buses in the Brong-Ahafo Region to convey their supporters during President Mills' recent visit to the region.   
Mr. Bugri made these comments on Space FM in Sunyani, and added that what the president has done amounts to the greatest deception and called on him to apologize to Ghanaians.   
The Research officer  noted that during the eight-year rule of ex-President John Agyekum Kufour, price of cement was increased by only ¢60,000  but the NDC government has increased the price of cement from ¢90,000 to ¢130,000 in just seven months.   
The research officer added that the then candidate Mills, during the 2008 campaign, promised to reduce prices of commodities but seven months into his administration, prices of most commodities have shot up, bringing hardship to Ghanaians.   
In the same way, petrol price has shot up, though the world market price is lower compared to the all time high price during the Kufour administration. 
Against this background, Mr. Bugri believes President Mills has failed in the proper management of the nation and in his 'I Care For You' slogan.   
He also challenged the Mills government to explain to Ghanaians what the ¢25 trillion loan so far contracted has been used for.
  Mr. Bugri again urged the NDC government to desist from intimidating opponents in the interest of national cohesion and unity.
From Vivianna Mensah Sunyani