Gang uses snake in street attack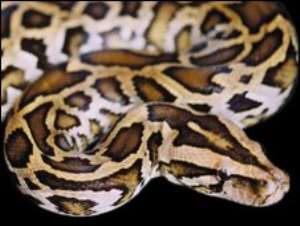 Pythons are not venomous and generally no threat to humans
A gang brandishing a snake as a 'weapon' attacked a 14-year-old boy with a 4ft (1.2m) python, forcing the reptile to bite the teenager's arm.
Police suspect the attack, in Bradley Stoke, South Gloucestershire, may have had a racist element to it and officers are appealing for witnesses.
The boy was pinned to the floor on Saturday afternoon, as one gang member forced the green python to attack.
Two youths aged 16 and 17, both boys, are being questioned.
The teenager was taken to Frenchay Hospital for checks.
Ambush predators
Police and the RSPCA are now investigating the incident, which took place at about 1500 BST.
Paramedics who attended the scene were left baffled by the injury and called Bristol Zoo for advice.
A spokesman for Great Western Ambulance service (GWAS) said: "Ambulance staff consulted Google and Bristol Zoo experts after a teenager was attacked by a group of youths."
The spokesman added that the group forced the snake to bite the boy on the arm, leaving two puncture wounds.
Pythons are ambush predators which rely on crushing their prey, and are not venomous.
GWAS incident support officer Michael Howells, who was at the scene, said: "Although the patient was suffering breathing difficulties after the attack, this was probably due to panic rather than a reaction to the bite. I would probably be panicky if that happened to me."
An Avon and Somerset Police spokesman said: "The teenager had been subject to racist comments and was then reportedly held down as a snake was held in front of him, which bit his right arm.
"The boy was taken to Frenchay Hospital with breathing problems, where he was treated for the injury to his arm.
"Police would like to hear from anyone who was in Merryweather Close at the time of the incident."
Originating at news.bbc.co.uk