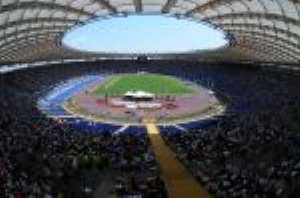 Rome – Yesterday will remain an unforgettable day for the 338 new Jehovah's Witnesses that were
baptized by complete immersion in the two pools prepared, while being observed by the 70.000
present at the International Assembly held in the Olympic Stadium in Rome. Those attending came
from all Central Italy – Lazio, Umbria, Abruzzo, Marche, Campania, Toscana and Sardegna – not
only: about 11.000 were delegates coming from Australia, Belgium, England, Germany, Japan,
Luxemburg, Switzerland, United States, Philippines, Ghana, Nigeria, Sierra Leone, Kenya, Benin
and Camerun.
The new baptized members were of an age going from 9 to 90. Gabriele, the youngest, a 9 year old
boy, or better, a young man, said: "I know I am only 9 years old, and both mom and dad explained
to me that the step I decided to take is a very serious one. I thought deeply about it and I spoke to
Jehovah personally in prayer. Today I finally got baptized and it's a great joy." Lino, on the other
hand, is the most elderly of the group that got baptized, he's 90 years old and exclaimed: "Finally I
discovered that the Truth exists!".
They are made up of 139 men and 199 women, not all are Italian: 70 of them are foreigners. Out of
these there's Moses (10 years old, from the United States) and Jesus (11 years old from the
Philippines), never could there have been better names for the occasion.
A major part of the afternoon program was dedicated to the families. With the help of Talks,
demonstrations and interviews, explanation and instruction were given on how Christian families,
applying Bible principles, can prepare themselves spiritually to face the future ****.
This morning the Public Bible Discourse is entitled "How Can You Survive the End of the
World?". It will compare common ideas about the end of the world with what the Bible teaches and
describes. The Talk called to mind how important it is to pay attention to the instructions the Bible
offers in order to be a surviver.
The "Three days" of work will conclude this afternoon with the presentation of a touching modern
day drama "Your Brother Was Dead and Came To Life", based on Jesus' parable of the Prodigal
Son.
Some of the parts of the program presented at the Olympic Stadium will be transmitted by radio
link to the other three International Assemblies that are being help contemporaneously in the
stadiums of Bari (San Nicola), Bologna (Dall'Ara) and Verona (Bentegodi). The admittance to
attend these programs of Bible instruction is open to the public and is entirely free.
Ufficio Stampa, Stadio Olimpico 06/3237616 – tel-fax 06/3237619

email: [email protected]
Si possono anche consultare i siti web
www.jw-media.org e www.watchtower.org

L'ufficio stampa è stato allestito nell'area della tribuna "Monte Mario" accanto alla Tribuna Autorità

Siamo a disposizione per un vostro gradito intervento