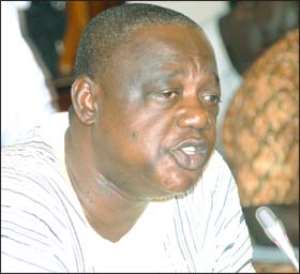 Dr Benjamin Kunbuor
A YOUNG lady in Accra, has been confirmed as the first Ghanaian to have contracted the dreaded swine flu (H1N1), making Ghana the third country to record the disease in Africa.
Even though earlier reports indicated that an expatriate staff of one of a mining company in the Western Region had contracted the disease, the Ministry of Health had refuted that, saying it was still under investigation and has not been confirmed yet.
The lady, who was said to have walked to a facility with mild symptoms of the pandemic influenza, was reported to have contracted the disease from her brother, who was diagnosed with the pandemic in the United Kingdom and had just returned to Ghana.
Dr. Benjamin Kunbuor, The Deputy Minister of Health, who was briefing the press yesterday, noted that the family members of the patient were now under surveillance, whilst the lady was currently responding to treatment.
He assured Ghanaians that government had since been very vigilant and had put measures in place to help prevent further predicaments.
"We have set up both National and Regional Technical Coordination Committees to meet every week, and a National Pandemic Influenza Action Plan has been developed to help the partners address the issue at hand with efficiency and timeliness", he said.
Stressing on Ghana's collaboration with the World Health Organization (WHO), in terms of drugs for the treatment of patients with the disease, he averred that some drugs had been prepositioned in regional medical stores and hospitals for early release, for the management of the influenza in the regions and districts.
Dr. Kunbuor noted that Noguchi Memorial Institute for Medical Research had been designated by WHO, as a diagnostic centre for the disease and it now has the capacity to confirm cases.
According to him, with all such measures in place, all the technical committees at the national level would be meeting daily to ensure that public education is intensified to ensure early detection of other cases.
He therefore called on both public and private health facilities to be ready to receive and manage all cases and also put in place the necessary logistics and human resources for the management of cases, adding, "All their staff should be given the proper orientation".
The Minister admonished Ghanaians, to be more vigilant in their day to day activities, by regularly washing and rubbing their hands with soap and alcohol.
Close contact with a sick person, handshaking, kissing or hugging during an outbreak, he said, could be risky to the innocent person's health so it is prudent for the public to refrain from such activities.
He urged those taking care of people infected with the pandemic to use face mask in accordance with guidelines provided by national health authorities, and also drink plenty of fluids, eat well, and reduce stress by having enough sleep.
He cautioned people infected with swine flu to cover their mouths with either a piece of cloth or tissue paper when sneezing or coughing and to wear masks when in contact with others, to help prevent contamination with droplets.
"Sick persons should stay at home and limit contact with others, as well as they seek treatment immediately the infection is suspected", he said.
He also called on people infected with the disease to wash their hands with soap and water especially after sneezing, or coughing and before touching door handles and other objects or surfaces.
It will be recalled that the first reported cases of the Swine Flu were in Mexico, in April 2009. The disease has subsequently spread to the USA and other countries. As of 31 July 2009, a total 162,380 confirmed cases from 168 countries involving all continents have so far been reported to WHO, with 1154 deaths.
By Henrietta Abayie