Gateway Services holds Open Day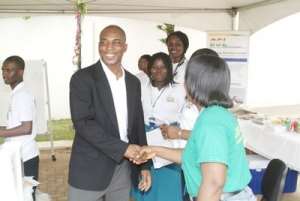 Mr Bawa in a dicussion with one of the invitees
Gateway Services Limited (GSL), a subsidiary of the Cotecna Group, the premier destination inspection company in Ghana, has held an open day during which management and staff interacted with their customers to discuss issues related to the promotion of the destination inspection scheme in Ghana.
The Managing Director, Mr. Nabali Bawa, reiterated customer satisfaction as one of the cardinal principles of the company and gave the assurance that GSL will continue to improve destination inspection services to the importing public ,the government and its agencies such as CEPS and the Trade Ministry.
He explained that "the introduction of the Computerised Risk Management System, Transaction Price Database and the X-ray Scanning in the first instance by GSL in destination inspection was a great innovation, but that there are a lot more exciting and greater things that could be done with new platforms".
Mr Bawa assured the importers of the company's open door policy and its preparedness to accept meaningful suggestions that would further promote the destination inspection scheme in Ghana.
He mentioned that the recent rehabilitation of the company's facilities at the X-ray scanner site at the port of Tema and the refurbishing of its offices in Accra were some of the measures that the company had taken to ensure comfort of its clientele.
The importers and agents commended GSL for its initiative in organising the forum, which, they said, offered them the opportunity to discuss and make suggestions which, they believed, would facilitate speedy and easy clearance of goods from the ports.