Armed Robbers deserve "shoot to kill" response – Regional Minister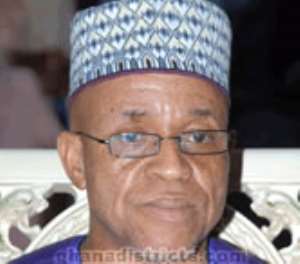 Upper West Regional Minister, Mr Mahmud Khalid
WA, Aug. 4, GNA – Mr. Mahmud Khalid, Upper West Regional Minister, on Thursday said armed robbers deserved the "shoot to kill" response they were currently getting from the military and police personnel because criminals never have respect for the rights of other people.
"How can criminals have rights?", he queried, and appealed to human rights activists to refrain from criticizing the methods being used by the security agencies to confront armed robbers, adding that "we should not endorse that only criminals have rights".
He said the exercise was meant to save everybody including human rights activists themselves, and to ensure that sanity prevailed in the society.
Mr. Khalid said these when he interacted with personnel of the Airborne Force detachment at Wa, during a special treat organized for them by the Military High Command in appreciation of the role they were playing to curb the recent spate of armed robberies and other criminal activities in the country.
He said security was a vital prerequisite for the development of the nation, and that government would do everything possible to ensure that all law- abiding citizens slept soundly and conducted their daily activities in peace and tranquility.
"We are not saying you should kill at will but if the armed robbers resist, also meet them with force. Do what it takes to restore sanity in the country", the Regional Minister said.
Captain Ross Foli Atiogbe, Commander of the Detachment, said the Military Command was proud of the achievements of "Operation Calm Life", and urged the personnel not to entertain any fears when combating armed robbers.
He, however, asked them to be mindful of doing a good job and not go into excesses which may in the end tarnish the image of the Armed forces.
GNA