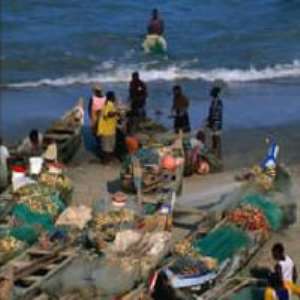 7 fishermen escape death

7 fishermen aboard a canoe escaped death last week when their canoe was cut into pieces by the propeller of one of the supply vessels at the jubilee fields which was discharging oil pipes to the rig.
The incident happened when the canoe was fouled by a fishing net causing the canoe to drift under the supply vessel PACIFIC AURORA.
The fishermen say they were saved by other fishing canoes in the vicinity and the crew on the supply boat.
The fishermen were treated for hypothermia and shock and were later transferred to a stand - by tug boat SHALLOM 1 and were brought to the Sekondi Naval Base.
The Ghana Maritime Authority has since launched investigations into the incident.