Protests at Sudan woman's trial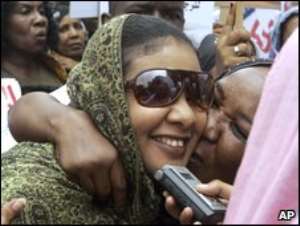 Ms Hussein wants to make this a test case for women's rights in Sudan

Police have fired tear gas at supporters of a Sudanese woman charged with wearing "indecent clothing", shortly before her trial was postponed.
Lubna Ahmed Hussein says she was arrested for wearing trousers.
She has adopted a defiant attitude, urging authorities to try her although she faces up to 40 lashes in public.
Earlier, she told the BBC she was not afraid, saying: "Flogging is not pain, flogging is an insult to humans, women and religions."
Ms Hussein has resigned from a UN job that would have given her immunity to take on the case - indicating she wants it to become a test case for women's rights in Sudan.
"If the court's decision is that I be flogged, I want this flogging in public," she told the BBC's Today programme.
But Ms Hussein's trial in the capital, Khartoum, was delayed for a month after the judge said he needed to verify if she was immune from prosecution due to her former position at the UN.
After her hearing was adjourned, Ms Hussein said the authorities wanted to delay her trial until the fuss around it went away.
Scores of women protested outside the court, some holding up banners saying "No return to the dark ages".
Then the riot police drove them away, reports the BBC's James Copnall in Sudan.
First they marched up the road, banging their batons against their plastic shields, and later they fired tear gas and charged the protesters.
'My message'
Ms Hussein was arrested in a restaurant in the capital with other women earlier this month for wearing clothing deemed "indecent" under Khartoum's Sharia law.
She said 10 of the women arrested with her, including non-Muslims, each received 10 lashes and a fine.
"Before police caught me, there are maybe 20,000 girls and women getting flogged for dress reasons," she said.
If this could happen in a restaurant in Khartoum, imagine what the situation must be for women in Darfur, Ms Hussein said.
"This is my message."
Ms Hussein and two other women asked for a lawyer, delaying their trials.
Under a 2005 peace deal between the mainly Muslim north and the largely Christian and animist south, Sharia law is not supposed to be applied to non-Muslims living in the capital.
Ms Hussein says she has done nothing wrong under Sharia law, but could fall foul of a paragraph in Sudanese criminal law which forbids indecent clothing.