Ashanti Police hunt escaped armed robbers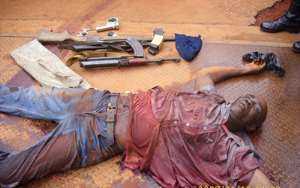 Ousman Gado

The Ashanti Regional Police Command have mounted a search for three members of a gang of armed robbers who escaped arrest after engaging the police in a shoot-out Monday on the Kumasi-Obuasi-Dunkwa road.

The leader of the gang, Ousman Gado, described as a notorious criminal was gunned down in the exchanges while the others escaped with gunshot wounds.
Two of the escapees have been identified as Rashid and Awudu Latif.

Police retrieved two AK 47 assault rifles, a single barreled gun and ammunition as well as a knife and a face mask from the robbers.
Forty-three year old Gado's robbery record dates back to 2001 when he was identified by two victims at an identification parade in Kumasi.
He also said to have shot and paralyzed a policeman on guard duty near Asante Mampong in the same year.
Gado was later granted bail by the court, sparking off a feud between police and the judiciary.

Police say Gado and his gang have in separate incidents within the last two months robbed victims of 6,000 Ghana cedis and 1000 pounds.

On Saturday, they attacked a residence at Fumesua near Kumasi , and made away with $12,000.
On Sunday Gado and his gang who were riding in a Sanyong 4x4 vehicle ignored police signals to stop at a check-point and ran over a crash barrier on the Anwiankwanta-Obuasi road.

Police pursued them and in the ensuing shoot-out, Gado was gunned down near Akrokeri.

Deputy Regional Commander ACP Kwasi Mensah Duku appealed to managers of health facilities to be on the lookout and notify the police about suspicious people with wounds who may seek medical care.

ACP Duku commended the general public especially the media for their co-operation in providing useful information to police.

Story and photo by Ohemeng Tawiah /Nhyira FM