RE: 'Tension at Newmont' - Newmont Ghana Reacts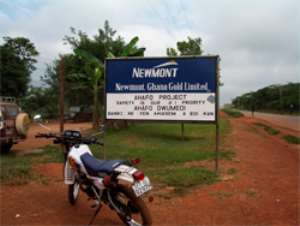 We write to correct the inaccuracies made in the July 17 and 22, 2009 editions of your newspaper under the headlines '10,000 Homeless' and 'Tension at Newmont Ghana'.
We would like to make available to you the facts about the Akyem Project and the false claims inferred by the article 'Tension at Newmont Ghana'.
With regards to Newmont's Akyem Project, this project has been studied extensively by international and national environmental experts, members of the communities living in the area, and by agencies and departments of Ghana's Government.
As a company, that values honest communication and encourages discussions about its activities and projects, Newmont Ghana has during the past five years, subjected the Akyem project to a thorough environmental impact study process, public consultation processes and over all regulatory review.
The project has also engaged directly with numerous community representatives, NGOs, government agencies, and international organizations on several occasions to create understanding and solicit inputs about the project, its impacts and mitigation measures.
These processes have demonstrated Newmont's respect for the Akyem Community, and its interest in opinions which are either supportive or contrary to the company's views.
As you may be aware, Newmont's Akyem Project's Environmental Impact Statement (EIS) is a public document which has been widely circulated to the Ghana Environmental Protection Agency (EPA), Ghanaian NGOs such as WACAM and has also been in the public domain for sometime now.
Thus, the newspaper's claims that it has 'intercepted a copy (of the EIS)', a document that has been in the public domain since last year, is completely inaccurate. In fact, the premise of the entire EIS process is to ensure the public has access to information such that the true merits of a project can be objectively reviewed from which decisions can be made.
Therefore, your statement that Newmont's 'Country Director and his management team were totally shocked by the story and could not fathom how the 2008 draft Environmental Impact statement… could be leaked to the media' is clearly untrue.
Our employees are going about their normal duties freely and we trust that they 'act with integrity, trust and respect'. There is therefore no 24-hour surveillance on Accra-based employees as supposedly claimed by the newspaper.
Newmont actually encourages its employees to understand our business and get involved in what we do as a company - these are all part of our values.
Some of the facts about the Akyem Project's EIS are as follows:
* The Akyem Project EIS was finalized last year November following revisions to the draft EIS initially presented to the EPA for their comments
* It was this final EIS document which was approved by the EPA and resulted in the issuing of the Akyem Project Environment Permit in February this year.
* The draft EIS referred to in the news article is therefore an invalid reference document as it does not reflect the approved environmental and social mitigation measures agreed on with the EPA in the final EIS.
As part of our corporate values, we believe in open and transparent communication and we are available to respond to enquiries needed to provide fair and balanced reportage on our company's activities.
This is in line with our commitment of becoming the most valued and respected mining company through industry leading performance.
Yours faithfully,
Adiki O. Ayitevie
Regional Manager, Communications.