Horrific : Man kills Brother For Ritual Purposes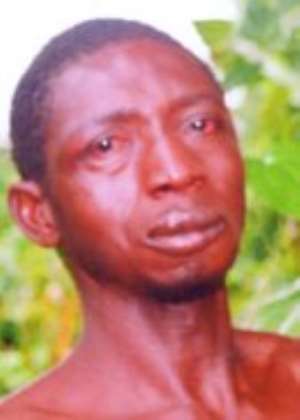 Weah Kontomah Seidu — The suspect
The Techiman Police are holding a 40-year-old farmer for allegedly murdering his 25-year-old brother for ritual purposes.
Weah Kontomah Seidu, the suspect, butchered his victim, Tang Dery, decapitated him and kept parts of the body on a farm for rituals.
The arrest of Seidu, who has been remanded into police custody, was triggered by the discovery of his 15-year-old daughter, Doris Zumori, in one of the waste bins placed by Zoomlion Ghana Ltd at Deasempa, a suburb of Techiman, with several machete wounds inflicted on her.
Confirming the incident to the Daily Graphic, the Techiman Municipal Police Commander, Superintendent Steve Ntim, said a woman who had gone to put refuse into the waste container at Deasempa on Saturday, July 25, 2009 found Doris severely butchered and in excruciating pain.
He said the woman raised an alarm, resulting in neighbours going out to assist in rushing Doris to the Holy Family Hospital in the municipality for medical attention.
He said while the police were following up to the hospital, the deceased's two brothers reported to the police that Dery had not returned from the farm at Aworopata, near Techiman, with his elder brother Seidu the previous day, July 24, 2009.
Supt Ntim said after receiving some treatment at the hospital, Doris told the police that it was her father who had inflicted machete wounds on her after she had asked of the deceased's whereabouts.
According to the police boss, Doris said she was surprised not to have seen the deceased after her father had returned from the farm alone.
He said at the police station, the two other brothers of the deceased also told the police that the deceased had not returned from the farm with Seidu and, therefore, they suspected that Seidu could have killed him after they heard that he had attempted to murder his daughter.
Based on that, he said, Seidu was arrested and, upon interrogation, he allegedly admitted killing Dery.
Supt Ntim said Seidu then took the police to the farm where Dery's bicycle, mobile phone and other farm accessories were found.
He said the suspect then took the police to a palm tree where he had placed Dery's head on the palm frond, while the decapitated body was lying close by.
He said when Seidu was interrogated, he claimed he was preserving the head to take to Lawra in the Upper West Region for ritual purposes to seek protection.
Story : Albert K. Salia