Stalwarts called to halt NPP Constitution Amendments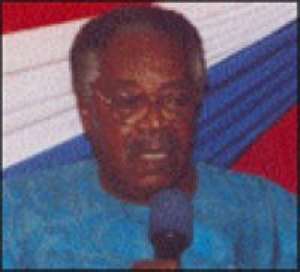 The Agona West Constituency Chairman of the New Patriotic Party (NPP), Mr Adofo Dwamena, has appealed to senior stalwarts of the party to intervene and stop the call to amend the party's constitution.
  
Mr Dwamena told reporters at Agona Swedru on Friday that an amendment of the constitution would deepen the "cracks" of disunity which was coming into the party.
  
Specifically, he mentioned stalwarts like Mr B.J. Da Rocha to step in with their wisdom to steer the party off the path of imminent disaster.
  
Mr Dwamena said the NPP lost the last elections due largely to the inability of constituency, regional and national executives to resolve misunderstanding within the party and not because of its constitution.
  
He cited an example where some members went against the party's constitution, rules and regulations but where not called to order or punished.
  
"How could contestants in parliamentary primaries openly camp delegates at the noses of some regional and national executives without raising a finger when they new it was a blatant abuse of the party's rules and regulations" he noted.
   
He noted that the ripples contributed in no small to the defeat of the party and reiterated the need for the intervention to salvage the party. 
   
The constituency chairman also urged supporters of the party and all people of good will to rally behind the NPP to stop the personality cults, which he said evolved before and during the last election from festering.
   
Mr Dwamena said the current round being made by certain top party functionaries to canvas for the acceptance or rejection of the amendment of the constitution seem to have opened the wound inflicted on the party during the  2008 election campaign.