Communications go beyond looks and eloquence – Esther Cobbah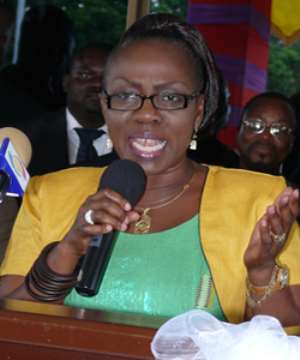 CEO of Stratcom Africa, Esther Cobbah

Ms. Esther Cobbah, Chief Executive Officer (CEO) of Strategic Communications (STRATCOM) Africa, on Friday said the days when corporate organisations placed premium on looks and eloquence when hiring people for sales and communications related jobs were over.

"Communications is more than just glamour and good English – it is a science that needs to be studied and applied professionally to achieve results," she told journalists at an awards dinner dance to mark the end of a five day Global Women Entrepreneur Trade Fair and Investment Forum in Accra.

Ms. Cobbah was among several women, who picked awards for their achievements in the areas of Corporate Entrepreneurship and Emerging Women leaders among others.

She was particularly hailed for venturing into communications and establishing Stratcom Africa at a time when people got out of that area due to the difficulty in convincing clients about the value of communications and professional communicators to the success of a business.

Stratcom Africa is a leading communications and reputation management organisation that consults for some big multinationals like MTN Ghana, Barclays Bank, The British Council Ghana and Speed Ghana among others.

"Particularly for me as an African woman running a locally established communications company that is trying to advise the bosses of huge multinationals, it was even tougher," she said.

Ms. Cobbah noted that when she first established Stratcom, it was difficult getting clients because the general perception about communications was that it was an art that took glamorous ladies who could speak good English to make it work.

"At the time, company only required glamour and eloquence as the criteria for employing sales persons, customer care staff and front desk executive," she said.

She said it was particularly difficult to try and change that perception because the result of "scientific" communications strategy is not tangible and not always immediate so clients found it difficult to accept the value of it.

"Clients usually argued with us when we give them professional advice because they do not see the science of it, unlike when a physical Scientist gives a professional advice with physical evidence," she said.

But now, she said, Stratcom had, through innovation, strategy, hard work, discipline, focus and result-driven communications packages, managed to make corporate organisations see the scientific value of communications.

She said the corporate communications industry in Ghana was still young but had several opportunities in politics, health, the corporate world, social setting and many more.

"Ghana has a budding democracy and that is an opportunity for communicators to infuse some professionalism in the way political communication is strategized and how feedback is also collected from the masses to the politicians," she said.

She said in the face of stiff competition in the corporate world, professional communications was key to success in both the goods and service industries, adding that even families needed professional communicators to intervene in their affairs to deal effectively with matters that had the potential of exploding for lack of proper communication.

"Sadly because the result of professional communication is usually intangible and not immediate, clients find it difficult to pay well for it as they do for other services; but gradually we are getting there," she said.

Ms. Cobbah urged the youth who wanted to go into communications to pay attention to the science of it and not just the form.

She said she owed the award to her mother who instilled the first lessons of entrepreneurship in her; her family who tolerated and encouraged her during the difficult budding days of Stratcom; and her staff, through whose effort the award came, because "this award is based on the work at Stratcom."

Ms. Cobbah said the award was a huge endorsement of what strategic and professional communications could mean for the development of organisations and the nation as a whole, adding that, "Stratcom would continue to reach for higher heights to place communications on a higher pedestal".