Asiedu Nketia cautions Kufuor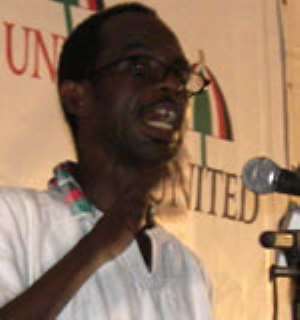 Asiedu Nketia
The General Secretary of the ruling National Democratic Congress (NDC) Johnson Asiedu Nketiah has cautioned former president J. A. Kufuor against bad-mouthing the Mills government.
He said the government will "come for Kufuor and his ministers" if he continues to make uncomplimentary remarks about the government.
Former president Kufuor in an interview with the BBC complained about poor treatment meted to him by the government, adding that the government was behaving as though it came to power through a coup d'tat.
"When you look at the situation, it begins to look like there has been a coup d'état. It wasn't a coup d'état that changed government. People went to ballot and the votes were almost split equally," he said
"There is a new government in place; it wants to find its feet. Perhaps they think they must position me in a certain way so the attention of the public will be drawn to the government of the day," he added.
But his comments have infuriated Mr Asiedu Nketia who said the former president could not be complaining about poor treatment as he presided over worse mistreatment of then opposition members.
Mr Asiedu Nketia, popularly known as General Mousquito, said former president Kufuor's government revoked all travel passports of NDC members through a radio announcement. "Do they remember what they did to us,? he asked.
He said calling on people to account for their stewardship could not be said to be retribution.
"If you are riding a car that does not belong to you, do you want us to allow you to take away state property?"
He contended that Mr Kufuor and his former appointees had benefitted tremendously from the patience and conciliatory posture of president Mills and urged that they should not do anything to provoke the government.
Former Deputy Local Government Minister, Maxwell Kofi Juma said Mr Asiedu Nketia's threats were empty and baseless.
He averred that Ghana was a constitutional democracy where the president could not act arbitrarily.
He argued the government was not doing Mr Kufuor and his former appointees any favour as intoned by General Mousquito.
Story by Malik Abass Daabu/Myjoyonline/Ghana