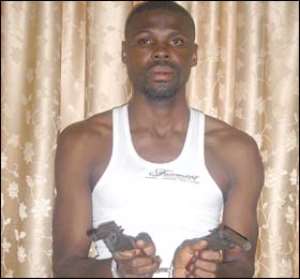 George Kofi Adu aka 'My People' holding the two pistols
A NOTORIOUS armed robber, George Kofi Adu, 32, also known as 'My People', was arrested yesterday morning at about 9:30 am by a passer-by, at the ABC bus terminal at Caprice, Accra.
According to the Deputy Regional Police Commander, ACP Christian Tetteh Yohuno, the suspect was making a call when the passer-by who wants to remain anonymous, spotted a gun buried in his trousers and became suspicious.
The police boss said, the passer-by immediately grabbed the suspect and shouted for help in order to take the suspect to the police station but onlookers were in no mood to be helpful.
He managed however, to call the regional commander who in turn communicated the information to the patrol teams on duty.
Fortunately, a team which had just gone for fuel and were returning to base through the Kwame Nkrumah Circle route, rushed to the scene to whisk away the robber whose colleagues had thronged the scene on motorbikes in a bid to rescue him from the claws of his accuser.
 On seeing the police however, they all fled leaving the suspect to his fate.
When the suspect was brought to the Regional Police Headquarters, they found two locally manufactured pistols on him. When the suspect was quizzed on reasons why he had such weapons on him, he told police that they were for his personal protection against Land Guards at Kasoa, where he was putting up a building on a parcel of land given to him by his sister who lived abroad.
Further interrogation revealed that the suspect, 'My People', had been on the wanted list of the police for robbery.
 A civilian later identified him as a car snatcher and more probing by the police led to the suspect confessing to the crimes in his caution statement.
 The suspect admitted to snatching two Nissan Primera saloon cars at Caprice, which he sold for GH¢ 3,200 each.
He also confessed to snatching two Tico taxis at Nsawam which he sold at GH¢ 2, 500 each.
Revealing his modus operandi to the police, George Kofi Adu said, he usually dresses in a corporate manner and lures his victims to drink until they were intoxicated on a cocktail of hard liquor.
He also said he takes his booty to the Brong-Ahafo Region where he disposes of them.
ACP Christian Tetteh Yohuno said they are rigorously pursuing his accomplices.
By Rocklyn Antonio