$500 m for Tema Port facelift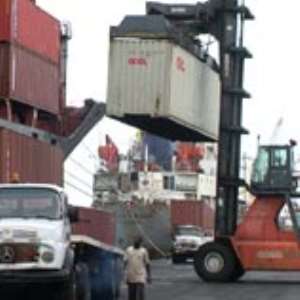 Cranes at work at the Tema habour

Nestor Galley, Director-General of the Ghana Ports and Harbours Authority (GPHA) has revealed that an amount of $550 million will be required to give the Tema Port a facelift which will commence in the very near future.
According to him, the proposed amount will be used in the provision of shore to gantry cranes, dredging of the berths at the port and the provision of other facilities, which he confirmed was part of the year 2000 master plan of the port.
Mr. Galley disclosed this when he addressed the Parliamentary Select Committee on Roads and Transport, who paid a day's working visit to the Port to have first-hand information on their activities.
He noted that the Takoradi Port and the Tema Port, which was opened in 1960, had gone through a lot of reforms, adding that the facelift when completed will help ensure quality service to the customers of Port.
Touching on some activities at the Port, the Director-General mentioned that they made some significant strides in the area of container exports, and stated that the year 2008 saw the number going up to 555,010, as compared to 489,147 in 2007. Total export for liquid bulk, dry bulk, general cargo, barged cargo, container cargo and forest products was estimated at 8,712,982 for the year 2008, as against 8,378,682 in 2007.
He further revealed that because of the depletion of the country's forest zone, more forest products were being imported now, and that the country did not export much forest products in 2008.
He explained that the number of imports of forest products rose from 1,389 in 2007, to 8,202 in 2008, adding, "the situation was worrying and needed to be addressed by government."
Mr. Galley told the visiting members of parliament that though the Port was considered one of the best in the sub-region, it equally had its own challenges, and mentioned that plans were far advanced to curtail most of them, especially with security. He appealed to them to give attention to the decongestion bill when it comes before them in Parliament.
Concluding his address, Mr. Galley refuted allegation that it was difficult in clearing cargo from the harbor, adding, "with the right documents and all payments made, a maximum of two days was enough for one to get his or goods from the harbor."